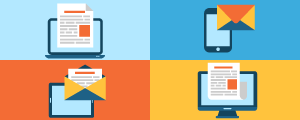 If you're not optimizing your marketing emails for mobile, you're losing a big chunk of your recipients. With 64% of emails now being opened on mobile devices, marketers need to optimize the user experience to maximize conversions and leads. With mobile-friendly emails now a must in today's digital world, here are some requisites for email optimization:

CONTENT IS KING
Ensuring your content is mobile friendly can be a challenge in itself as there are many things to keep in mind. The first challenge is keeping your copy brief, clear and concise. This should be a no-brainer for any marketing email, but more so for mobile where screen real-estate comes at a premium. Text size needs to be considered, as tiny text is difficult to read, and a single column template should be the go-to layout.
WHAT'S AN IMAGE WORTH
Most marketing emails these days are sent with images, even if it is just a logo. For these images to display well on mobile devices, there are a number of things to consider:
Optimize and reduce the size of your images, both in terms of file and physical size; the image will load slowly if it's too big, making it likely that the recipient will skip your email.
Avoid unnecessary images; they will only serve as a burden.
Some mobile device platforms can turn off images by default; design your email with this in mind so that your pitch is still powerful in a text-only environment.
Preview your email before sending it out by testing it on different mobile devices. Something that looks good on Android might not look so good on iOS.
CTA's: MAKE THEM THUMB-FRIENDLY
Make it easy to click on a call-to-action (CTA). Large buttons are easier to click than a line of text. Thumbs come in all shapes and sizes, so you should really be optimizing the CTA for the biggest of thumbs. Google recommends a minimum size of 48×48 pixels for interactive elements on Android devices, while Apple recommends a minimum size of 44×44 pixels on iOS devices. Even if you decide to use text links, the font-size of the link should be increased, not only for it to be more noticeable, but to make it easier for thumbs to tap. And if you are creating an email that has CTA's, the links should be going to a website that's optimized for mobile devices. You don't want your beautifully crafted responsive email directing to a web page that's a mess on mobile devices.
Consumers won't think twice about deleting your email if it isn't properly laid out on their mobile device, with as many as 70% of consumers deleting them if they don't render well. While designing a mobile-friendly email might be easy for some, it can be a challenging experience for others. For extra help, it probably wouldn't hurt to invest in a responsive email template. There are sites that provide mobile-friendly templates designed to look good on any screen size.