Blog Home
7 Steps to Successful Employee Recruitment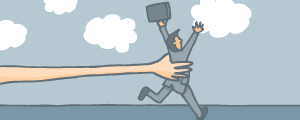 The recruitment and onboarding of quality talent is a challenge for every organization. Online recruiting processes now make this challenge easier. Here are 7 components of any successful online recruitment process:
1. Building an Employer Brand
While your brand may resonate positively with consumers, effective recruiting also requires the articulation of an employer brand that speaks more directly to employee interests. Laid-back corporate cultures, a broad set of benefits and flexible office hours are all hallmarks of progressive employer brands.
2. Constant Communication
Managing candidate expectations throughout the recruitment process is key. An applicant should never be in doubt as to the current status of their application. Applicants under review should be notified at regular intervals, and unsuccessful applicants should be informed and thanked for their time.
3. Making It Easy
Applicant drop-off occurs when an application process takes too much time, or requires too many hoops to be jumped through. Requiring applicants to create accounts or fill long forms is discouraged. Strive to keep your process simple, intuitive, and user-friendly.
4. It Takes Two to Interview
It's not just applicants who need to prepare for a successful interview. Interviews are your organization's best opportunity to scrutinize candidates prior to hiring them. It's therefore critical that you conduct an efficient and effective interview. To start with, ensure accurate scheduling and that your interview room is booked and prepared. Next, review all the specifications for the position you are interviewing, as well as the candidate's CV and application materials.
5. Everyone in the Pool
Top talent is tough to find. In scenarios where you decline a candidate who may be well-suited for a future position, let him know, and retain his information for future reference. By building a database of qualified candidates, you can more efficiently fill positions going forward.
6. Day One
You've found a successful candidate. Now you need to ensure the onboarding process is efficient so that your new hire integrates successfully. Automating tasks such as creating network logins and email addresses for your new employee is one way to save time. Use that time to show your new employee around your facilities and introduce them to key colleagues and team members. Make sure they are given all the information needed to hit the ground running.
7. Review and Refine
Your process can always improve. Review website analytics and other available metrics to find out where quality applicants are dropping off or where unqualified applicants are getting in. Actively eliminate clunky or ineffective elements, while building upon aspects of your process that are successful.