Blog Home
3 Great Content Management Features of IgnitionWeb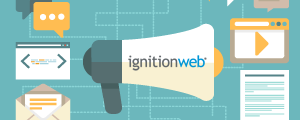 Managing website content can be a drag if you don't have the right CMS. Styling, formatting, and inserting links or images are challenging tasks if you lack the technical knowledge. These challenges are compounded when a website's content is updated frequently, or by more than one person. As content is revised, updated, and passed from one team member to another, it can become difficult to keep track of changes, resulting in inefficiencies, mispublications, or lost work.
HTC's IgnitionWeb solves all these problems with robust CMS tools designed specifically for business professionals working in teams. With little technical knowledge, IgnitionWeb users can manage content, observe approval processes, and ensure the right content gets published at the right time.
Let's take a look at some of IgnitionWeb's most powerful content management features:
Easy Text Editor
Easily drafting, editing, styling and formatting content is the most basic requirement for a good content management system. IgnitionWeb's Easy Text Editor (ETE) features a WYSIWYG (What-You-See-is-What-You-Get) content editing interface.
Using a toolbar similar to those found in traditional word processing applications, ETE users are able to edit content with familiar functions. Content style and format in ETE is presented exactly as it will be on the front-end, minimizing the time required for revisions and optimization.
While non-technical users will benefit from ETE's WYSIWYG functions, more advanced users can rely on ETE's useful "Source" function, which allows content editing to be performed using HTML source code, for more complex content implementations.

Content Status Manager
Working in a team is a double-edged sword. On the one side, your website benefits from having more hands on deck, requiring less time and input from each individual administrator. On the other hand, miscommunications and unclear roles can lead to inefficiencies, mispublications, or lost work. Content Status Manager is an IgnitionWeb module designed specifically to address the challenges of managing content as part of a team.
With Content Status Manager, Administrator publishing privileges are divided into two categories. Supervisors have access to Content Status Manager where they can accept, publish or reject content submitted by Collaborators through multiple modules.
Collaborators are required to notify other Administrators that content has been created or modified and is ready for review, approval and publication. By mirroring company hierarchies and enforcing desired workflows by Content Status Manager ensures website publishing is controlled and monitored.

Content Versioning
We all make mistakes, but some content management systems can be unforgiving when we do. The biggest risk we face every time we publish edited or updated content is losing the previous iteration. With IgnitionWeb's content versioning features, this risk is all but eliminated.
Dynamic content such as News Articles and Calendar Events are saved in a database each time you submit them. If a new update or edit isn't right, you always have the option of reverting to a previous version. Publish with peace of mind, thanks to this awesome IgnitionWeb feature.