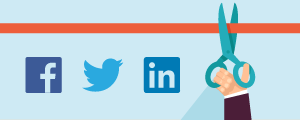 Social Media has completely changed the way events are promoted. Flyers and posters have given way to Facebook pages and hashtags, allowing event awareness to be amplified exponentially when shared online. Beyond the loudspeaker effect, the Internet and social media have changed the way we manage events, the way we RSVP, the way we buy tickets, and the way we document the event experience.
Let's take a look at how Social Media can impact your event marketing:
Registration Socialization
Through services like Eventbrite, event registration now happens almost exclusively online. By allowing you to create links directly to your dedicated online registration page, these services massively expand the potential reach of your event promotion and efficiently track RSVP's in real-time. Not only can attendees register through these services, they can make online ticket purchases, too.
Sharing Event Energy
Social sharing is what makes things trend and go viral. Harnessing the power of social sharing can exponentially increase event attendance. Contests, discounts, and social influence can be used as incentives for attendees to share their event interests. Two effective strategies for promoting sharing are contests offering free or discounted tickets, and employing notable social influencers to announce their attendance.
Broadcasting the Buzz
Social media offers revolutionary new ways to record, document, and broadcast your events. Unique event hashtags can be used by attendees to aggregate photos, posts, and videos related to the event. Using a projector or monitor to set up a "Twitter Wall", a live-feed of all tweets using the event hashtag, can be a great way to encourage attendees to participate in the social broadcast.
Until Next Year
A good event manager knows that promotion for the next event starts the day after the last one. The night after your event, follow up with attendees by thanking them for their participation. Including a survey with your thank-you letter can provide you with valuable feedback and testimonials. Highlight major social influencers who participated in the online conversation, and let their social clout go to work for you.
Event marketing has never been more exciting than in the age of social media. Both events and social media are about connecting people. With this common goal in mind, focus on how you can use social media to boost attendance for your event and create meaningful personal connections.