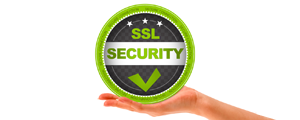 The verdict is in! SSL encryption earns you consumer trust and better Google rankings. Google has officially acknowledged using HTTPS as a ranking signal and consumers have overwhelmingly indicated that SSL encryption is important to them. Given the relatively low cost of implementing HTTPS on most websites, there is really no excuse NOT to do it.
But wait…what is SSL and how does it boost your business's search engine rankings and customer confidence?
What is SSL encryption?
SSL encryption provides authentication of the website and associated web server that a user is communicating with, which protects against man-in-the-middle attacks. You visit SSL encrypted web pages every day; they are the ones with the lock icon and "HTTPS" in front of the URL instead of just "HTTP". For sites where visitors are transmitting data back and forth, HTTPS represents an added layer of security.
How will HTTPS improve my search engine ranking?
Google recently called for "HTTPS everywhere" in order to make the Internet a more secure place. As part of this push, they are now using HTTPS as a ranking signal for websites. Sites using encryption will be given a boost in search rank. Right now, the boost is modest, but Google has indicated that HTTPS may strengthen as a signal in the future.
How does HTTPS earn me user confidence?
Web users are becoming increasingly sensitive to privacy concerns and how websites handle personal data. Ninety-three percent of online shoppers surveyed by VeriSign reported that they felt it important for an e-commerce site to include a trust mark of some kind on their site. In the event that a non-HTTPS e-commerce site was hacked, a post-mortem analysis would show the lack of SSL. This revelation would be extremely negative publicity for an organization and would lose them trust and customers, and maybe more.
The cost of purchasing an SSL certificate for your website is a fraction of what you might pay for an SEO campaign, or make from improved search visibility. And it's an even smaller fraction of what you stand to lose if customers abandon your site due to security concerns. With this considered, the decision to make your site HTTPS in 2015 should be an easy one.