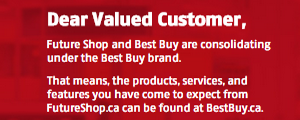 Best Buys' recent closure of all Future Shop locations hints at a bigger shift underway that is forcing retailers to adapt or perish. Established in 1982, Future Shop was for many years the largest Canadian retailer of computers and consumer electronics. Purchased by Best Buy in 2001, it soon became common to see massive Future Shop and Best Buy locations within close proximity of each other. But the oversaturation of brick and mortar retail locations isn't the primary reason in-store sales suffered.
As marketing expert Ken Wong points out, social media and e-commerce are presenting consumers with fewer and fewer reasons to step foot into ANY electronic retail store…
For years, both Best Buy and Future Shop have suffered from "Showrooming". Showrooming is a common phenomenon in retail these days; consumers visit stores, test and visualize products, make purchasing decisions, and then head home empty-handed to shop for the best possible deal online.
Some industries have adapted. Chapters, with its comfortable setting, in-store coffee shops, inviting beanbag chairs, and tranquil reading sections provide consumers with an incentive to visit, spend-time and hopefully purchase goods while they're there.
Future Shop failed to adapt. Stores were massive, industrial, and cold. There were few products available for testing. Customer service representatives could often be found in chatty congregations, seemingly oblivious to customer needs. Many products were available for purchase online only. This combination left consumers with little reason to visit and left Future Shop with little opportunity to capture in-store sales.
During their final days, Future Shop's stores were, at best, showrooms for e-commerce stores with better prices. When they failed to adapt to shifting consumer expectations and behavior, they put the nail in the coffin. What can other retailers learn from Future Shops lack of foresight? Avoid the wasted overhead of brick & mortar. Invest in e-commerce and social media! It's where your customers are doing their research and making their purchases.