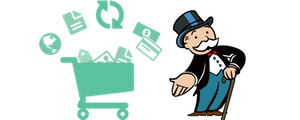 A new research report published by Martini Media and performed by Ipsos Media CT titled "The Affluent Audience Online" reveals the shift of wealthy American consumers towards the increased purchasing of luxury goods online. The study explored the behaviour of four key segments of the "Affluent Market", defined by annual household income and age.
The report conclusively indicates the growing role of the Internet and e-commerce in the lives and purchasing habits of affluent demographics,
"As we shall see, one commonality across all sub-segments within the Affluent population is that Internet use is universal, extensive, and growing. Across platforms, the Internet is fundamental to their daily lives, and their marketplace behaviour—it is at the core of much of their media consumption, their pre-purchase research, and purchasing itself."
Here are some of the report's key findings:
On the ideal sub-demographic for luxury brands:
The Hyper Affluent have at least $250,000 in annual household income (HHI), and represent the top 3% of the US population. Their average income is over $500K, and their average net worth is over $2 million; they reflect the primary target for many luxury brands.
On the importance of targeting and reaching the affluent market:
All brands—from luxury goods to everyday products—need to have a strategy to reach the affluent. They spend and consume more and likely represent the best overall sales margins.
On the significance of online shopping:
The Internet plays a crucial role, not only in Affluent media use and pre-purchase research, but of course in purchasing itself. Across most of the segments examined, 60 – 70% made a purchase by computer in the past week, a figure that skews higher among the Hyper Affluent.
Looking forward, it seems that marketers seeking to connect with affluent demographics are in luck. The affluent market is growing, as is their buying power and penchant for digital content and connectivity. Businesses who can tap into this affluent segment through creative and convenient online purchasing solutions will be the real winners.