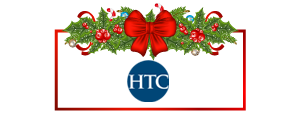 Since HTC's founding in 1982, we have been blessed each holiday season to receive dozens of warm, thoughtful holiday greeting cards from our grateful friends and clients. We proudly position each card on our reception desk like a trophy on our mantle as a reminder of our treasured relationships. But this year, something was different…
A Cold Reception
Walking into the office on the day before our holiday break, I noticed a concerning lack of Christmas cards welcoming me at the door. Where had they all gone? We had more clients than ever before… had they all forgotten about us? I consulted our founder and president Tom Kouri, to see what was up.
The Digital Mantlepiece
"All the cards are right here in my email", Tom said. Scrolling through his inbox with me, Tom revealed a library of digital well wishes; some simply typed, some delivered via online greeting card services like Blue Mountain or the popular JibJab. The cards were there; they had all just been delivered digitally.
The Ghost of Christmas Future
So, this was HTC's Digital Christmas Carol and a sign of things to come. Strategy Magazine's 2014 Marketing survey indicates a massive decrease in print spend in 2015. There is also increasing pressure for companies to reduce paper waste and digitize documents. With all this considered, it's almost certain that the holiday season this coming year will yield even fewer cards on the reception desk and even more in Tom's inbox : )
Christmas cards are just one example of traditional forms of media going digital, but there are many more. As the shift to digital everything continues, what steps is your company taking to adapt? Let us know in the comments below.