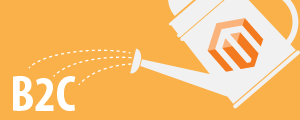 Owned by eBay, one of the biggest names in Internet technology, the Magento e-commerce platform has established the bar for an exceptional B2C e-commerce experience. Open-source and broadly supported, Magento can be modified and extended to suit any e-commerce vision. Shoppers navigating a Magento-backed site will notice an intuitive, familiar, encouraging fluidity as they browse merchandise and add items to their cart. That's because more than 240,000 merchants use Magento globally, making it one of the most popular e-commerce management systems in the world.
Let's examine some of the features that make Magento ideally suited for launching and scaling an e-commerce project:
Promotion and Marketing
When your business is new, one of the biggest challenges is creating awareness and getting customers to pick you over more established online retailers. Marketing your e-commerce business with Magento is made easier using a number of built-in promotional tools. For example, configurable pricing rules that can be applied to stores, customer groups, time periods, products and categories allow for the creation of digital "coupons" that can be shared online to create buzz and purchase incentive.
Search Engine Optimization
Another challenge when growing an e-commerce business is winning the Google game and getting your website, pages and products listed as high as possible on search engine results pages. Magento has native functionality that can help you optimize all parts of your website and gain the upper-hand on SEO. Page URL's can be re-written and customized so they can be found more easily via search. Product specific metadata can be assigned with the most relevant keywords. On top of this, Magento's auto-generated site maps further benefit SEO.
International Support
As your online business expands, you may find yourself courting new markets and selling to different countries, in different languages and currencies. Scaling to new markets can introduce new complexities that many e-commerce management systems aren't equipped for. Fortunately, Magento offers full multilingual support right out of the box. Language and currency localization and international tax rates can be configured to accommodate virtually any international market. Configurable lists of "Allowed Countries" can be assigned for check out, shipping and payment.
These are only a few of the features that make Magento great for growing an e-commerce business. Additional features that support customer service, accounts and order management, and other essential aspects of online selling, make Magento a prime choice when planning a B2C e-commerce venture.