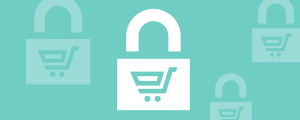 A new dress for your upcoming interview, your prescription medication, a bed for your dog, your groceries. What do all these things have in common? You can buy them online. Online shopping is the ultimate convenience; bringing everything you need just a few clicks away – from your office, your bed, or even while riding in a taxi. 2013 saw $262 billion worth of cyber sales, which is expected to increase to $370 billion by 2017.
All this is good news, right? We all love shopping online. But there is a downside that most of us never stop to think about. The web can be a dangerous street to shop on if you're not properly protected. There are approximately 130 million – yes million – malicious programs lurking to steal personal information online, up from 1 million in 2007. It has therefore become more important than ever that every online shopper take the time to bulletproof their devices.
Just how dangerous can malware be for online shoppers? 40% of all identity theft occurs during an online purchase. Think about it. You're inputting all your information including credit card number, billing and shipping address – it's an identity thief's gold mine. What does that mean for the victim? $297 on average, not to mention the frustration of dealing with identity theft.
With as many as 50% of users lacking basic security measures on their devices, it's time to start protecting your information and your identity. As the victims of major e-commerce related cyber-attacks, companies such as Target and Home Depot will tell you it's better to take action before your security is compromised.
So how can you reinforce your cyber security while shopping online?
Update software and anti-virus to the latest versions. It's not enough to install anti-malware software. You need to keep it up-to-date in order to keep up with ever evolving viruses and malware.
Be critical with the apps you download. Check the company's reputation first.
Be weary of shopping online over a public wifi connection.
Search for store reviews. Read what others are saying about the stores and their shopping experiences.
It's not hard to protect yourself online so you can enjoy the convenience and broad selection of shopping on the web. Stay informed, stay suspicious and err on the side of caution.