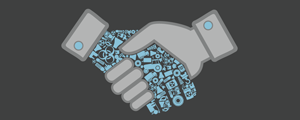 No matter the writing project, the first rule is to identify your audience. The reality is that people mostly want to know what applies to them, which means that your content marketing strategy can only work if your content speaks to your target audience. Once you've identified who you're writing to, the next step is to determine what's important to them, what they want to see and how they want to see it.
We'll take you through the basics of writing for your industry's audience:
1. Finance
A finance audience is looking to educate themselves. They're not into funny memes and shareable videos, but rather, formal and educational content that can act as tools to their financial success. Valuable content could include personal finance tools and how-to guides, financial news blog articles, and webinars covering investment strategies
2. Retail
Unlike the finance audience, the retail audience is the ideal candidate for fun and flashy photos and shareable social media content. This audience wants to know more about the brands and products they like. Valuable content could include email campaigns with promotions and deals, social media product images and giveaway contests, as well as product demonstration webinars and casual opinion blogs.
3. Travel
If you are in the travel industry, it's clear that your audience will be interested in content that will make travelling easier, more exciting and more enjoyable. Social media photos of travel destinations will be a hit, along with interactive travel maps, vacation giveaway contests and travel destination blogs. Remember, your audience is looking to take a vacation, so keep it casual and interesting!
4. Auto
The auto industry audience are people looking to buy and sell cars as well as car fans and fanatics. So what will appeal to their interests? Social media photos of car models, videos demonstrating car performance, or blog articles comparing car models. Keep it casual but stay informative.
5. Technology
When it comes to tech, you have to decide on the technical ability of your audience. Are you speaking to a crowd who are well-versed in HTML or are you starting with the basics. The expertise of your audience will help you determine the type and tone of your content. A more tech-savvy audience could benefit from a tech news blog while the newbies would be more interested in how-to guides and videos and fun tech gear giveaways.
6. Education
When it comes to the educational audience, it's important to keep it professional, yet fun. Much of your audience will consist of current and former students and parents looking to get involved with school. Valuable content could include a blog showcasing student's school experience, campus events and news, videos to promote culture and even a twitter Q&A with students.
7. Real Estate
Like Finance and Tech, the real estate audience is looking to educate themselves in a particular skill. They are buyers, sellers, or investors looking for real estate market insight. Content that would be of interest could include newsletters for local listings, real estate buying and selling guides, and online home design widgets.
8. Legal
It's obvious that the legal audience is not looking to be entertained. They are seeking formal advice and tools to help with legal matters. To appeal to this target audience, content could include past client case studies, testimonials from past clients, guides for legal matters, and helpful infographics.
Customers and consumers alike have toted the benefits of content marketing, with 70% of consumers expressing that content marketing makes them feel closer to the sponsoring company. But to achieve this closeness, it is crucial that your content speak directly to your audience. If you're not talking to them, there's a pretty good chance they're not listening either.