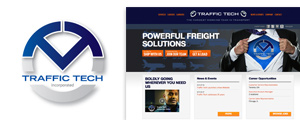 Traffic Tech, a leader in global logistics, has grown to 23 offices around the globe and continues to expand at an impressive pace. The Traffic Tech story begins in 1988 with a young entrepreneur, Brian Arnott, who left his job at a local logistics company with the vision and ambition to do logistics better. It was through these humble beginnings that Brian learned the secrets to success: motivated employees and superlative customer service.
How does he do it?
Grade-A Customer Service
What's the best way to stand apart from your competition? Work harder. Care more. And ultimately, offer your customers the best service available. This motto is the heart and soul of Traffic Tech. The company, whose slogan is The Hardest Working Team in Transport, keeps its customers in mind with each shipment they take on and every decision they make. "When a customer calls, whether it's 8 in the morning or midnight, we react, " says Dave Condron, General Manager of Traffic Tech's Toronto branch. "We're always there."
No Cap on Employee Earnings
What better way to motivate employees than to put them in control of their own destiny? At Traffic Tech, sales representatives control the size and amount of accounts they want to handle. In this way, they are in control of their workload and, in turn, their earnings.
Fostering an Ownership Mentality
By empowering its employees, Traffic Tech has motivated their team to feel as though their contribution makes a substantial difference. The result is an inspiring ownership mentality (with some employees actually earning more than the owner!). Each employee at Traffic Tech is responsible for a shipment from sale to delivery. Accordingly, employees are motivated to provide the highest level of customer service to each of their clients.
Creating a Fun Working Atmosphere
Traffic Tech truly understands the work-hard-play-hard mentality. While employees are motivated to be ambitious and succeed, they are also urged to bond with their team and have fun. "It's laid-back, casual and fun to be a part of," says team lead, Saunia Fagan. It's this type of environment that allows Traffic Tech to attract and retain young, energetic talent, and the secret to keeping a 25 year-old company looking and feeling fresh.
Top-of-the-Line Technology
Aside from a top-notch team, Traffic Tech continues to invest in leading-edge technology to ensure the most efficient shipments possible. Specifically, the TTSLS internal tracking system and reporting software is one of the best in the business, allowing customers to track their shipments in real time. This type of technology allows customers to feel informed and in control, giving them peace of mind, and ultimately fostering a trusting relationship.
Preserving a Small-Company Feel
While Traffic Tech has grown from its humble beginnings in Montreal to a global company with over 500 employees, it has managed to retain the small company feel. "You're always going to reach me – a live person – and speak to me about your freight," says Peter Bowie, Director of Operations at Traffic Tech's Toronto office. "We have a personable approach."
With the experience, the expertise, and cutting-edge technology to boot, it seems that Brian Arnott and Traffic Tech have found a winning combination. As the company continues to expand globally, it is dedicated to preserving the same values that brought it to where it is today: hard work, hard work, hard work – and every feasible motivator to make it all worthwhile.
We've recently had the pleasure of working with Traffic Tech on their new branding and web programs, and we sincerely hope their ideals, culture and methods rub off on us!