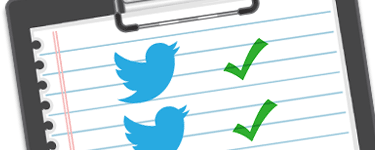 With a mere 140 characters, crafting the perfect tweet can be a tricky feat. It's not just about creative content and witty writing; your Tweets are only effective if they are seen and encourage people to engage. When composing your tweet, remember that every character counts. These 5 tips will help you maximize each tweet (and hopefully impress the entire Twitterverse).
1. Join the Conversation with Hashtags
Incorporating hashtags into your tweet makes it searchable. More specifically, your tweet will appear in search results for that same hashtag. So for instance, if a Twitter user wants to know the best recipe for vegan cookies, a search for #vegancookies will provide a list of all tweets with that hashtag. Conferences, concerts, festivals and other live events often create specific hashtags that let users follow the stream related to their event of interest. If you're attending an event, use the designated hashtags to let your tweets become part of the dialog. It's also good idea to search trending hashtags and try and include those (as long as they pertain to your tweet!)
2. Include Images for Extra Umph
We all know that an image is worth a thousand words. When you only have 140 characters at your disposal, 1000 words is looking pretty handy. Of course, some tweets can benefit more from images than others, and it's important not to simply add an image just for the sake of having a visual, especially since image links take up characters. For example, if a new bicycle model has just arrived in your bike store, adding an image of the bike can go a long way. Similarly, if you're promoting a lunch special at your restaurant, a picture of the delicious offering can be extremely appetizing. On the other hand, sharing your thoughts on Blackberry's new phone and adding Blackberry's logo is not going t get you very far.
3. Make Friends by Paying It Forward
Say a tweet in your newsfeed links to a great blog article that you think your users would simply love. You could always copy-paste the link and tweet it as your own, making you look like a blog article search guru. But in reality, "plagiarizing" links is actually detrimental to your Twitter status. By giving credit to the original tweeter, not only are you displaying proper netiquette, you're also creating a dialog between yourself and the tweeter. Retweeting or giving credit by using "via the person's Twitter handle" is actually a great way to start conversations, increase engagement and build your social network.
4. Target Users with Twitter Handles
Adding Twitter handles to your tweets is a great way to help engage specific members of your audience. Add a user's Twitter handle if you are talking about them or to them, whether you're answering a question, making a comment about something they've said, or asking a question you'd like them to answer. Another way to use Twitter handles is to direct your tweet to that user, even if the information isn't specifically related to them. Tweeting about a festival in your area? You might want to add the Twitter handles of people who are likely to be interested. Maybe you're wondering whether lobster is in season. Why not add the Twitter handles of a couple of seafood restaurants? Adding a handle can make the tweet feel more personal and encourage users to engage. Of course, be sure not to spam users.
5. Use Symbols to Stand Out
Symbols are a neat little trick that can help your tweet go the distance. While many people use symbols for fun, they can actually have a much more substantial effect. Symbols can make your tweets shorter and easier to read, two extremely valuable features. For example, consider the following tweets:
• 3 tips: 1) http://bit.ly/pBowO9 2) http://bit.ly/oNEe61 3) http://bit.ly/px9H6F
• 3 tips ►http://bit.ly/pBowO9 ►http://bit.ly/oNEe61 ►http://bit.ly/px9H6F
Using the arrow symbol saves 7 characters and breaks up the links even better than the numeration does. Additionally, symbols can be used for dramatic effect, which can help your tweet stand out from the rest:
▂ ▃ ▅ ▆ █ Type your tweet here █ ▆ ▅ ▃ ▂
You can copy-paste symbols right into your tweet or use keyboard shortcuts. A helpful trick to tweet symbols more easily is the symbol "typewriter", which lets you click on a symbol keyboard and tweet directly.
140 characters can go a long way when you know how to make the most of every one. By using the right tools and tricks, you can maximize the effectiveness of your tweets, boosting your reach, engagement, and value you add to your Twitter network.
Let us know if any of these tips have worked for you or if you have any other tools to share!