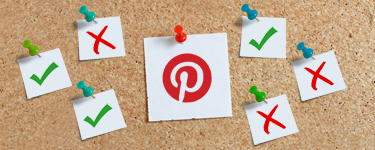 Until now, Pinterest has taken a back seat to the ever-popular social platforms: Facebook, Twitter, and LinkedIn. However, with the introduction of Pinterest Business Accounts, this underdog is quickly climbing the social totem pole pin by pin.
If your business hasn't yet joined Pinterest, read on. These do's and don'ts will help fuel your pinning success and set your brand apart!
Do:
Start Thinking Visually
Pinterest is all about visuals. Engaging and sharing is based on the appeal of your images. That being said, your goal is to entice pinners to re-pin, like, comment and ultimately follow your company pinboard. Also, be sure not to limit your engaging visuals to your pins. Your website and blog should have pin-worthy images too – pinning these images are a great way to drive traffic to these sites!
Check Out Your Competitors
Market research is always a great way to start a successful marketing campaign. Check out what other companies in your industry are doing on Pinterest and take account of which types of pins are successful and which don't make the cut. It's not about copying, it's about learning from others, mirroring tactics that are successful and avoiding those that aren't working as well.
Optimize Your Pins with Keywords and Links
Similar to Twitter, Pinterest has a search bar that allows users to search for pins, pinboards, and people by keywords. Adding descriptive keywords to your pins will enable them to appear in Pinterest search results. Similarly, adding relevant links to images can help you direct Pinterest traffic to your other sites. As an example, if your pinned image comes from one of your blog posts, you should include the link to that post. Chances are, if the user is interested in that image, they'll be interested in the post!
Add a "Pin It" Button to Your Company Graphics
Does your company create original infographics, art, or unique blog photos? Adding a "Pin It" button enables viewers to pin these engaging graphics to their pinboards. These pins will then link back to your site. It's essentially free advertising that gives your company's awesome graphics the potential for greater appreciation and wider reach.
Don't:
Use a Personal Account for Your Business
People will search for your company pinboard by your company name. If you use a personal name, you're diminishing your chances of being found. Additionally, each pin displays the "pinner". If the pinner is a person's name rather than the company name, you're losing the potential for brand awareness.
Pin One Image To Multiple Boards
Pinterest allows you to create different pinboards, each with a unique category. For example, say you're a web design and branding company (like us!), you could have a board with web design inspiration, another with SEO tips and tricks, another with social media tips, and so on. While a single visual could potentially fit into a dozen different boards, Pinterest users will become annoyed if you simply pin it to every single one. Try to narrow it to a few boards that really fit the bill.
Overpin or Pin Irrelevant Content
Just like any social platform, when and what you pin will determine how users respond to you. Flooding people's feeds is a sure way to turn them off of your company pinboard. Similarly, pinning too many photos that have no relevance to your company will be of no interest to your audience. People are following you because they are interested in your company, so be sure to post images that say something about you! Just like any social network, think quality over quantity.
Omit the Price Tag
If you're pinning products, you should include the price with your pins. Pinterest allows you to list your products in the Gifts sections for free. This way, each time you pin a product with a price, your pin will be listed and viewers can buy it right off Pinterest! How could you miss this free opportunity to sell your product?
Pinterest is a great way to grow you're social network, especially if you're a company with great visuals to share. With visual posts getting the most engagement across all social channels, Pinterest can play a major role in your online marketing success!
Let us know if these tips helped you enhance your Pinterest presence! We'd love to hear any other tips for companies on Pinterest. Leave your comments below!