A big part of what we do at High-Touch involves educating people about the value of the Internet in reaching business objectives through strategic online initiatives. What better way to communicate its importance than through a real-world account from one of our clients?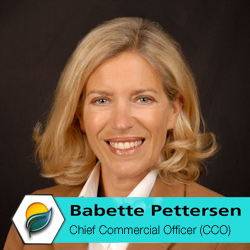 Babette Pettersen, Chief Commercial Officer at BioAmber, graciously took the time to answer some questions about her company's web presence. During their relationship with HTC, BioAmber has grown from a demonstration-scale sustainable chemical producer into a multi-national company trading on the New York Stock Exchange, with a vision to develop a global, 100% low-carbon integrated supply chain.  Read on below to find out how BioAmber uses the web to drive awareness, connect with its community, educate stakeholders and generate leads.
1. What do you hope to accomplish with your web presence?
For a small start-up in an emerging field, creating market awareness to accelerate market adoption is critical to business success. At BioAmber, we have a small team of professionals that do a great job. We also have distributors that help expand our market connections globally. Our web presence is key to connecting us with the universe of potential for our business: a network that we could never access with physical assets. So, what we hope to accomplish is universal market awareness, interest and leads.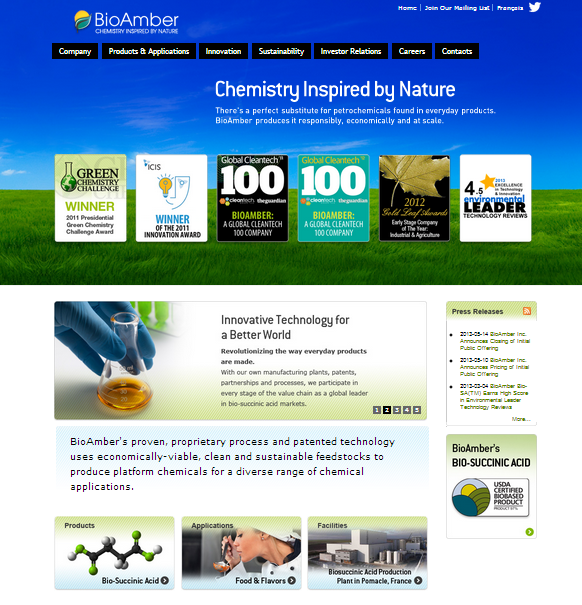 2. Who makes up your audience?
Our audience is made up of multiple interest groups from investors to government officials. It also includes potential customers and formulation chemists seeking more sustainable solutions for their chemical applications.
3. How does the web support your sales and marketing interactions with potential customers?
The web is a major multiplier of our sales and marketing interactions with potential customers, not only in terms of creating new connections and new leads. It also helps in establishing a platform for an interactive exchange of information with a broad potential customer-base across the globe, not just in the US and Europe, but also across Asia.
4. One of BioAmber's goals is promoting awareness for bio-based alternatives. How has the Products & Applications website supported this initiative?
With the broad range of applications, markets and customers for BioAmber's bio-based chemicals worldwide, it would be impossible to communicate the breadth of applications and the depth of performance potential via any other route than the web. The Products & Applications site enables all potential customers, chemical formulators and interest groups globally, to become aware of our bio-based products, their performance and application potential, as well as their potential to increase the level of renewable carbon in their everyday products and formulations simply by typing in a few key words. The new BioAmber Product & Applications site translated directly into top billing on Google search!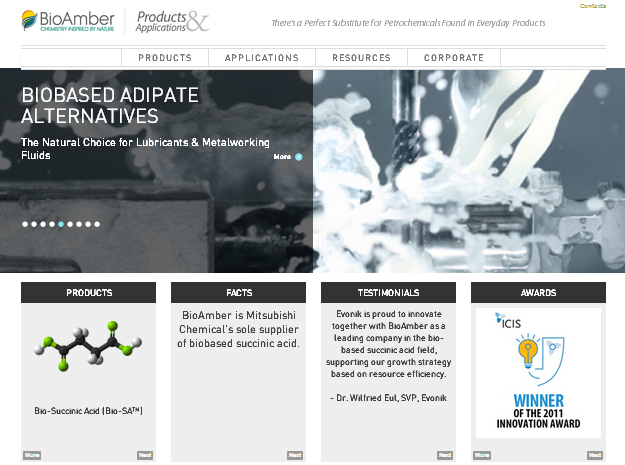 5. In the long-run, how do you see the web playing into your overall marketing mix?
The web is an integral part of our marketing mix. We know that our potential customers use the web to research information about our products and their potential applications, as well as about our company; it is not a 'nice to have' but a 'must have'.
Thank-you, Babette!