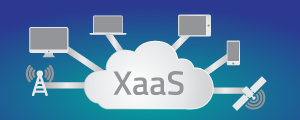 Cloud computing is changing the way we do business, and XaaS, or 'Everything-as-a-Service', is at the center of it. XaaS includes any service or technology accessible via the Internet that has historically been installed locally or delivered on-site. XaaS, where the "X" refers to  "anything" and "everything" has become the umbrella term used to include SaaS (Software-as-a-Service), PaaS (Platform-as-a-Service), and IaaS (Infrastructure-as-a-Service), as well as several other such services. Whether you've heard of it or not, XaaS is already playing an integral role for businesses worldwide and it will only become more ubiquitous and essential across industries and global markets.
What the future holds: the natural technological evolution
With the current evolution of technology, it won't be long until every business process, support system and infrastructure requirement will be available on-demand through some kind of 'as-a-service' offering. Due to increases in network connectivity, cost efficiencies and integrated web capabilities, major infrastructures and the processes that run on them are already migrating to the cloud.
The on-demand economy is in full-swing with companies such as Amazon Web Services, Uber, and Airbnb paving the way. In the digital age, these pay-per-use and on-demand services are provided by XaaS suppliers.
Business Benefits of Cloud Services
Rather than paying money up-front for a product that might only be used at a fraction of its capacity, XaaS is generally offered in a subscription or pay-per-use model, and flexible in nature so that you can pick and choose the services you need, and when you'll need them. This "plug-and-play" solution has allowed many businesses to avoid much more costly expenditures in hardware, facilities and in-house support personnel.
Besides only paying for required services and capacity, other benefits of XaaS offerings include:
Flexibility

Ability to scale-up and ramp-down based on business and technical requirements
Accessibility from anywhere and from any device connected to the Internet
Availability of multiple feature sets, data storage, and support options

Cost efficiency

Reduced or eliminated human IT department support requirements
Reduced or eliminated costly equipment and infrastructure requirements
Pay only for required capacity, and only for the period that it is needed

Quick deployment

Can be set-up easily and in a short period of time, reducing time to launch

Regular updates

Service providers update offerings automatically to accommodate the most up-to-date technology, features and security patches

Risk mitigation

Free trial periods are offered for many XaaS offerings—allowing to try before you buy
Feature and security updates are often automatically rolled-out across subscribed services
With all the general positivity surrounding cloud computing and XaaS, there are some drawbacks:
Security and privacy

Need to rely on the service provider to maintain security of sensitive and confidential data
Service providers can be prone to malicious attacks and outages

Technical issues

Access to a service is dependent on an Internet connection—meaning that if your connection to the Internet is interrupted, services will be unavailable

Limited Customizations

While you may be well serviced by the features and capabilities of a cloud offering, your specific customized requirements may not be accommodated
The advantages of XaaS offerings tend to far outweigh their short-comings.
For businesses, XaaS is not a question of "if" but rather of "when." Companies are already migrating their services to XaaS models in droves. Packaged software is all but extinct and in-house computing infrastructure is going that route, too. It's no longer inconceivable to think that everything on your desktop computer will soon exist in the cloud. With projections that the XaaS market will grow an average of 40% a year until 2020, and estimates that businesses will direct more than $1 trillion towards cloud computing by 2020, it isn't hard to see why XaaS computing will soon be the norm.
In order for a business to stay nimble and competitive, it must strive to use the latest in technology. Businesses need to understand what XaaS can do for them in order to keep pace or gain an advantage over the competition. If your business uses a service or product that can be provided over the internet, you owe it to yourself to consider XaaS.