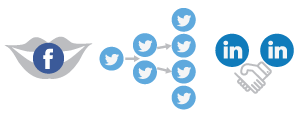 In today's connected world, there's no excuse for businesses not to have an active presence on social media. Sitting on the sidelines and choosing not to engage through social media gives a business or brand a serious disadvantage. Using social media is easy and can be very strategic, but be sure to choose the channels that fit best with your offerings and target market. Here are three of the most popular social media platforms and the types of businesses they appeal to:
Facebook
With over 1.7 billion active users, Facebook is the go-to platform for any B2C company who wants to make their presence felt in the social media world. Used for brand awareness, promotion, customer support and community engagement, Facebook concentrates on building relationships among users. What's really effective on Facebook is "word-of-mouth" advertising which enables your audience to quickly spread the word about your brand and business through "likes" and shares. As a more personal network and "social" home for your business, branding and content need to be casual and fit into a friendly and family type of atmosphere.
Twitter
Like Facebook, Twitter is also used for promotion, customer support and community engagement. Unlike Facebook however, you don't need to wait for likes and shares to be found. Twitter is where everybody can see everybody. It is a powerful branding tool, as a well targeted, calculated and hash-tagged post can quickly bring in a new audience and customers. If you want something to go viral, Twitter would be the go-to platform. Twitter is also the most useful platform for information gathering and finding interesting and trending industry-related content that can be shared. By following industry leaders, competitors and customers, you can discover what they are reading, sharing and thinking at any given time. While Twitter doesn't have the number of users that Facebook has, 49% of Twitter users follow brands or companies which is 3 times more than on Facebook.
LinkedIn
LinkedIn is the platform of choice for B2B companies. While Facebook and Twitter are the personal and social networks, LinkedIn is all about building, and engaging with, a professional network. It allows businesses to create trust, build a reputation and connect with prospects, customers and potential employees. LinkedIn is also the platform of choice for companies to showcase their offerings and expertise, and to connect with business professionals in virtually any industry. Here, you want to focus more on satisfying users' needs and less on promotional materials. While you won't get the big Twitter and Facebook audiences, LinkedIn groups can serve as a targeted audience to communicate your offering, build connections and develop leads.
While each platform has its differences, all are effective advertising and branding tools and should be embraced by all businesses. Depending on markets you are targeting, one platform might be better than another, but ultimately, efforts should be made to strategically use all three and take advantage of their strengths to help reach your customers, drive awareness, attract talent and build sales.