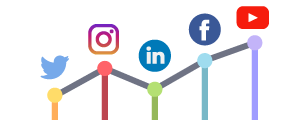 Today's social media landscape has become increasingly dynamic, with audiences that are scattered on a growing number of general and specialized platforms. Marketers are struggling to keep up with the challenges that this rapid change represents. For companies to stay relevant while cutting through the clutter, they must embrace the latest social marketing trends. Here are the top five trends that have dominated 2016 so far.

Customer Service
Repeat customers are the lifeblood of any business and good customer service is essential to keep them coming back. It was found that 82% of consumers stop doing business with a company because of bad customer service. Social media channels have become widely used for soliciting and receiving customer service, with 67% of consumers having used a company's social media channels for customer support. 
Influencer Marketing
Social media consumers are spending increasingly more time looking for insight from fellow consumers who they trust. As a result, companies are recognizing the benefits of Influencer Marketing, as it delivers 11 times the ROI of digital marketing. Influencers are fans of a brand, company or organization that are actively supporting it on social channels. On average, Influencers have 10 times more followers than companies and 8 times the engagement on social media. There are important advantages to gaining the support of these users, including the fact that they already have an audience whose decisions they can impact and whom you might not have been able to reach.
Employee Advocacy
Employees have the potential to amplify a company's message, so it is important to encourage them to support their brands on social channels. Empowering them to spread messages and be brand evangelists allows a company to quickly reach a much larger audience in a more meaningful and impactful way.
Social Video
Video was the most popular content marketing format in 2015. The number of videos consumed has exponentially increased over the past few years, with adult users viewing a total of 5.5 hours of video every day in 2015. It is no surprise that 73% of companies say video is their most effective online marketing tool, and that most businesses expect it to dominate their strategy going forward.
Social Platforms Serving Niche Markets
As new players continue to launch more social media networks, the markets that major social platforms serve are becoming narrower. Today, different demographic groups are clustering on different online platforms, resulting in more segmented audiences for each social networking service. Companies should carefully choose which channels to focus on based on where their target customers are, rather than having a presence on each and every platform.
Due to its impressive growth and reach, it has become almost impossible to neglect social media from your marketing strategy and budget. Companies can take advantage of social platforms useful advertising options (such as Twitter and Facebook ads), and opportunities to make content public. However, the world of social media changes quickly, and in order to remain ahead of the competition, companies should keep up with the latest trends to help them shape their social media campaigns, increase visibility and maximize returns.