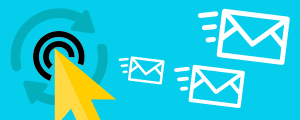 Transactional emails are those that are sent after a user completes an action: makes a purchase, creates an account, contacts customer support, etc. Transactional emails are a digital marketer's best friend since they are opened and clicked 8 times more often and can generate six times more revenue than standard emails. Effective transactional emails are recognizable, right-on, rapid, revenue-generating and responsive.
Recognizable
Send your transactional email from a sender name that is immediately identifiable. Your sender name being recognized by recipients can make the difference between your email being trashed or opened. This is step one of your transactional email being opened: if users don't recognize you, they're more likely to see you as spam. Here are a few examples of good sender names:
Andrew from OfficeSupplies: "andrew@officesupplies.com"
The Marketing Company: "customerservice@themarketingcompany.com"
Right-On
Use a straightforward and specific subject line. Put as much detail into it so the recipient knows exactly what the email is about. Here is an example:
Basic subject line: "Order confirmation"
Better subject line: "Your receipt for order #521652382 from Online Shop"
Best subject line: "Your Online Shop order of a pair of jeans and 2 more items"
Rapid
Prompt transactional emails build the first line of engagement. Send confirmation, follow-up or notification emails as soon as users have completed their transaction. This reduces their "FUD" (fear, uncertainty and doubt) that the transaction was unsuccessful.
Revenue-Generating
Use transactional emails to cross-sell or up-sell to your customers. Take advantage of this window of opportunity to suggest a companion product, recommend an upgrade to a paid service, encourage the users to join a loyalty program, or review their transaction. Doing so increases the chances of those customers visiting your website again.
Responsive
With 65% of emails being opened on a mobile phone or tablet in 2015, making your transactional emails mobile-friendly is now a necessity. Since a large majority of your recipients might read your email first on a mobile device, make sure it is equally informative and interactive on different screens. Here are some tactics to make your emails responsive:
Only use images relevant to the transaction
Provide a link to a video on a host site instead of embedding it
Use large buttons instead of text links
Use responsive design to minimize or hide secondary information
Transactional emails are the most engaging emails to send because your consumers are expecting them as a result of a transaction; therefore, they will be opened and read more. In addition, 64% of recipients consider transactional emails to be the most valuable messages in their inbox. Thus, optimize them correctly to boost brand awareness, increase conversions, build trust in your business and increase returns. After all, as stated by Tom Kouri, "If your best prospects are your existing customers, then transactional emails are the kings of marketing opportunities."