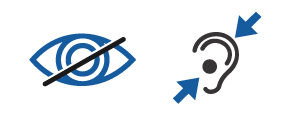 There are business benefits to designing a website that is optimized for accessibility. The most obvious benefit is the significant proportion of users with sensory impairments who are now potential consumers on your site, but there are other advantages. Let's examine some of the ways that you can improve SEO, traffic, and authority on your website while improving general accessibility:
"Alt Tags" The Secret SEO Opportunity
The HTML code associated with each image can include an optional "Alt" tag. For visually impaired users, the text contained Alt tags may be read aloud by their browser. On the accessibility front, providing detailed, descriptive Alt tags will enable these users to better understand the content of your website images. On the SEO front, these detailed descriptions are an opportunity to use your target keywords in a section of content that Google's search spiders read to inform image search results. This immediately opens you up to a ton of new potential traffic.
Closed Captions that Count
The most effective websites today are integrating some form of video content into their mix. In order to make your videos accessible to the hearing impaired, it's advisable to include closed caption or subtitling. The key business advantage here is that Google also recognizes closed caption. Like Alt tags, you can employ target keywords and boost your website traffic by scripting videos strategically and adding accompanying captions.
A Rewarding Reputation
By optimizing your site today, you can develop a positive reputation with online communities of accessibility advocates. Engaging organizations through social media can leverage a network of users who will appreciate your attention to accessibility. In industries, such as healthcare or senior care, where accessibility is considered a must, performing optimizations can also deter unintentional discrimination or legal complications.
Have you looked at your website from an accessibility perspective? Let us do it for you. HTC can help you create your brand and website from the ground up while ensuring accessibility and design best practice.