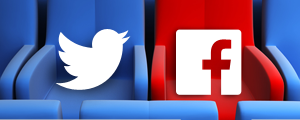 The success of large corporate events and fundraisers today depends largely on the effective use of social media to promote, document and broadcast. Integrating social media into large events can be easier said than done. What platforms do you use? What strategies should you adopt? What steps can you take to harness the power of social media?
Here are 5 great tips for integrating social media into your big event:
1. Net Your Networkers
Visitors and attendees seeking networking opportunities will want to get the ball rolling beforehand. Ensure your guestlist is visible to other attendees, allowing them to identify prospects. Create a virtual meeting point on your social channels to facilitate introductions and conversations.
2. Harness a Hashtag
Choose a unique hashtag for your event that is short & sweet, relevant, and memorable. Once you've ironed out the perfect tag, promote it! The effectiveness of the hashtag is ultimately dependent on the number of people who know it and use it.
3. Create a Contest
Devise a contest or offering that requires your attendees to contribute their own content and share it. Offering a reward for the "most liked Instagram" of the night will yield user generated content; the best form of free marketing.
4. Let Them See Your Social
Using a projector or monitor to display a livefeed of social posts using your event hashtag is one of the best ways to catalyze social media use and integrate it into your event. Watch as your attendees create content and delight in seeing it come to life on your social wall.
5. Customer Care
Large events always breed confusion. No matter how much information and online service you provide upfront, there will always be guests who get lost, lose their ticket, or have general questions that relate to the event. Social media can be your first line of defense for this. By establishing your Twitter feed or Facebook page as a place where questions get answered, you can address queries in real-time, and display responses for other attendees who may be seeking the same information.
Integrating your social media is a surefire way to make your event a social success. Got some additional tips for integrating social? Let us know in the comments below!