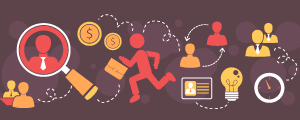 2015 is the year of mobile web. Tablets and smartphones are now the primary medium for Internet access, and this trend is affecting everything we do online. For businesses this includes online recruitment programs. Today, if you don't have mobile considerations integrated into your hiring process, you are likely losing qualified candidates.
What considerations should you be aware of and why? Let's take a look…
We Use Mobile at Work and to Find Work
More than 66% of employees now use 2 or more mobile devices at work. A large majority of American companies now allow or encourage the use of personal mobile devices for facilitating work. On the recruitment side, more than 1/5th of searches containing the keyword "jobs" are made from mobile devices. 70% of job seekers acknowledge reliance on their tablets or smartphones as part of the job search process.
We Are Applying from Our Mobile Devices
Nearly half of all mobile searches are goal oriented. People searching from smartphones and tablets are seeking a specific piece of information or are looking to take a certain action. For job seekers, this action is applying for positions. Not only is it crucial that your application system is mobile friendly, but the application process itself must be simple and hassle-free. Mobile users need to apply quickly, and their attention may be divided. Short application forms with real-time field verification are a good start!
We are Job Hunting via Mobile-Friendly Channels
Major job boards like Monster and Indeed have apps to facilitate mobile job searching. Other major channels for recruitment such as LinkedIn and Craigslist are also optimized for mobile. Of course your own careers website should be optimized for mobile, but your job postings should also be shared on these other channels, where mobile job seekers are organically searching already. By casting a wider net, you are sure to catch more candidates.
Recruiting quality candidates means tailoring your processes to appeal to those candidates. Mobile optimization of your entire onboarding strategy is a surefire way to increase applications and encourage recruitment activity. If you haven't adapted for mobile yet, now is the time to take action!