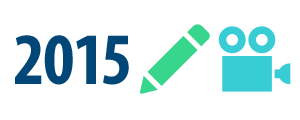 Video has become a fundamental part of how we consume online content. Over the next few years, video is expected to reach 79% of all Internet traffic and businesses will make an investment of nearly $13 billion in video marketing. If you are a business that wants to stay ahead of the game, developing compelling, shareable video content should be a top priority.
But why do you need it?
Increasingly, video content is working to shape consumer perspectives of products and brands. Most consumers now say that companies who use video know how to reach their customers. Videos describing and demonstrating services and products have become very popular consumer preferences; 4 times as many consumers would rather watch a video about a product than read about it. Probably the most frightening statistic for companies still dragging their feet is that one in four customers LOSE INTEREST in a company if it doesn't have a video.
What kind of video should you create?
There are tons of opportunities for creating compelling video marketing content. Do your customers love you? Create some video testimonials! Do you offer a product or service? Illustrate how it's made or demonstrate how it works. Still not sure what kind of video to create? Try producing a simple overview of your company and its offering. Whatever type of video content you decide on, keep it short and sweet; nearly two thirds of consumers prefer their videos under 60 seconds.
Ok, you've made your video. Now what?
The great thing about investing in video content is that it can be used repeatedly, and presented nearly anywhere. As Video Marketing Magazine 'Reel Marketer' puts it, with video "the perfect sales pitch sound bytes are scripted, created once and repeated indefinitely." If you market via email, consumers will be 50% more likely to open your messages that include links to video. Videos get more shares on Social Media, too. Nearly half of all consumers have shared a company video on their profile.
With the rise of mobile, consumers are now able to digest video content from virtually anywhere, presenting great cross-platform marketing opportunities. And unlike text content, consumers don't mind watching a video more than once. In fact, a majority of consumers find it helpful to watch a product video more than once before making a purchase.
We'd love to see your company's video content! Why not share it in the comments below?