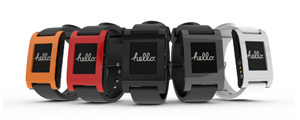 In April 2012, a company called Pebble Technology set out to fund the development of an innovative wearable electronic device. Pebble's "smartwatch" promised to do for watches what Apple's iPhone had done for telephones in 2007. After failing to attract traditional investors, Pebble turned to the fledgling crowdfunding website Kickstarter, appealing to prospective consumers in an ambitious campaign. Although the campaign's initial funding goal was a mere $100,000, by May 18, 2012 Pebble had raised $10.3 million on Kickstarter.
But Pebble's campaign wasn't just a success for them; it was a success for Kickstarter and for crowdfunding as an emerging platform…
Like a Rolling Stone
The massive success of Pebble's campaign garnered a ton of press, with coverage coming from major online news outlets like The Verge and Forbes. Beyond launching the product into the limelight, the campaign had the added effect of driving attention towards Kickstarter and the concept of online crowdfunding in general. Interest in Pebble, Kickstarter, and Crowdsourcing experience a peak during the period surrounding Pebble's campaign, the onset of a rising trend that continues to this day.
Kickstarter's Kickstart
Why has Kickstarter been so successful and what impact did the Pebble campaign have? Kickstarter's rise has been driven primarily by their own success. Projects like Pebble and the enormous amount of money and attention they generate, in turn generate further interest in both Kickstarter and other projects on the site. As backers interested in specific projects sign-up for Kickstarter, they become exposed to other interesting campaigns and a sort of cross-pollination occurs. The success of the platform, its ease of use, and its focus on promoting "creative and new ideas", have now captured mainstream and media attention, driving millions more people to the site.
The result of all this is that current Kickstarter campaigns are generating more than seven times Pebbles record-breaking 2012 success, and a vibrant crowdfunding industry is now in full-swing.