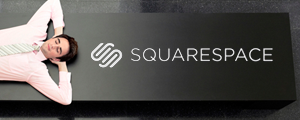 Launched in 2004, Squarespace is a CMS composed of a website builder, blogging platform and hosting service. Anyone who's ever created a website with WordPress knows what a struggle modifying themes, laying out content, resizing images, and managing plugins can be. Squarespace eliminates a lot of these headaches with robust, native functionality that simplifies the process of making and managing a website.
What makes Squarespace so different from other content management systems?
1. The End of Theme Overload
There are a ton of WordPress themes out there, some would say too many. It can be hard to find the right WordPress theme because there are so many to sift through. Many of the native WordPress themes are too generic and require extensive customization for professional use. Others created by third party developers can be too niche and require detailed knowledge about the theme in order to use it properly.
Squarespace has 28 native themes organized into 7 applicable categories, making it easy to identify which one is suitable for your goals. Whether you are an artist looking for an easy to manage portfolio or a vendor seeking to set up a simple online store, Squarespace has got you covered. By limiting the number of available themes and providing extensive documentation and support, Squarespace empowers its users to self-customize and self-manage their site with little to no technical knowledge.
2. One Size Fits All
Unless you're a graphic designer, you probably don't know a lot about image ratios, resolutions, and dimensions. So when you are trying to insert an image on your WordPress site and can't get it to look right, you're in trouble. If you have a responsive site, you may find that images that look right and load fast on desktop become oversized and slow to load when viewed on a tablet or smartphone.
Squarespace solves your image problems before they start. Each image uploaded to a Squarespace site is duplicated into multiple sizes. When editing an inline image, you can resize it simply by dragging its edges to the size you want. All Squarespace sites are also responsive for tablets and smartphones. Squarespace automatically serves the best image size and resolution based on the viewport your site is being viewed on. Without any graphic design work on your part, images on Squarespace load fast and look good, no matter what.
3. Integrated E-Commerce
Anyone seeking to run an e-commerce store using WordPress has a lot to look forward to. Downloading and testing multiple plugins, learning how to use them, ensuring compatibility, and customizing theme layouts are just some of the challenges that are associated with trying to use the blogging platform as an online store.
Squarespace has simple e-commerce functions built right in. While it may not be suited to run your 40,000 SKU megastore, independents and small businesses wanting to make a first foray into e-commerce may look to Squarespace as a kiddy pool in which to get their feet wet. Powered by payment processor Stripe, Squarespace allows merchants to setup their account; upload, price and configure their products; and begin fulfilling orders all in a matter of minutes.
While WordPress remains the most popular CMS in the world, and is often a first choice for website newcomers, Squarespace is a welcome alternative. By simplifying much of the configuration and customization process, Squarespace allows you to get your website working for you, faster.