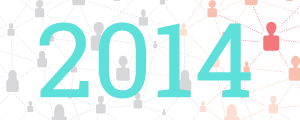 Each year, new viral trends, videos and events permeate the collective consciousness and achieve a staggering scale of public awareness. As the Internet's attention rolls from one fad to the next, it's easy to forget what a massive impact each viral phenomenon has on the global conversation, if only for a couple of days. With 2014 squarely in the rearview mirror, we thought we'd take a look at some of the most culturally impinging viral moments from the past year.
So grab your Purell bottle and lets immerse our self in some viral content:
March 2014 – No Make Up Selfies
In March of 2014, following an appearance by actress Kim Novak at the Oscars in which she wore no makeup, the hashtag #nomakeupselfie began to breakout on Twitter and Instagram. During March 19th and 20th, the hashtag gained rapid traction and evolved into a viral fundraising campaign for breast cancer awareness. Celebrities quickly got in on the action, with A-listers such as Gwyneth Paltrow and Adele posting their bare faces in support. In only 48 hours, #nomakeupselfie had catalyzed more than $3 Million in donations for Cancer Research UK and brought the topic of female self-image to the forefront.
July 2014 – ALS Ice Bucket Challenge
In the late summer of 2014, a dare game began trending on social networks. Participants were required to post a video in which they doused themselves with a bucket of ice water, or donate money to a charitable organization for research and treatment of Amyotrophic lateral sclerosis (ALS). At the end of each video, participants would challenge three others to do the same, thus creating a recipe for further sharing and eventually virality. The Ice Bucket challenge achieved extraordinary reach, with celebrities and politicians alike getting in on the action. The result was a record-breaking donation period for the ALS Association and a massive increase in awareness about this serious and debilitating disease. The Ice Bucket Challenge raised more than $115 million, with more than$16 million in Canada alone.
September 2014 – Celebrity Nude Photo Leak
Online chaos erupted in late August and early September 2014 as a trove of nude photographs belonging to female celebrities including Jennifer Laurence and Ariana Grande surfaced on major websites like 4chan and Reddit. While many were eager to view the photos, others were frantically trying to have them taken down. The whole ordeal brought discussion of individual cybersecurity and online privacy to the forefront – a topic that will no doubt receive more attention as our lives continue to move further online in 2015.
If there is one lesson to learn from 2014, it's that viral content isn't something you can predict or control. Marketers seeking to harness sharing behaviour and create viral campaigns will forever be at the mercy of the often-ruthless online community. Only by walking the tightrope of controversy and popularity will they be able to find the right balance.