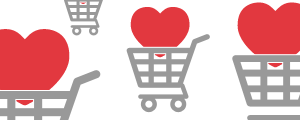 February is that special month when lovers express their affection through the purchase of gifts. For those of us whose true love is e-commerce, Valentine's day is also an opportunity to connect with consumers. Average annual Valentine's Day spending now exceeds 13 billion, with the average consumer coughing up $116.21 on presents. This means there is a lot of money to be made if you are selling the right product. What is the right product? The most common products and services purchased on Valentine's Day include candy, flowers, cards, dining, clothing, and other gifts. If you are selling or promoting any of these items online, we've compiled a list of lovely marketing ideas that will help you fill consumers hearts AND shopping carts this February 14th.
Guys Need an Early Reminder
One of the age-old valentines clichés is that of the clueless boyfriend who forgets to plan his gift ahead of time. A few weeks prior to Valentine's, try connecting with these would-be Casanova's via email campaigns and on-site messaging. If you can assist them in planning and purchasing the right gift, you can increase conversions (and possibly conceptions!) on and around the big day. Fun, creative copy that calls out this predictable demographic and points them towards some reliable go-to gift ideas is a great way to encourage purchasing behavior and ensure these guys aren't left in the doghouse come the 14th.
Last Minute Love
Even if you connect with those forgetful guys well ahead of the 14th and remind them to get their gifts on time, many will still be waiting until the last minute. Starting February 10th, offering last minute discounts on products and expedited shipping can help boost sales in those final days leading up to Valentines. As absent-minded husbands and boyfriends scramble, let your thoughtful marketing initiative be their savior.
Ladies Love to Shop
Guys aren't the only ones buying gifts on Valentine's Day. Unlike their male counterparts, however, women often put significant forethought into their purchase planning and buy different things than men do. For this reason, it can be helpful to divide your product offering into gender specific showcases. While some items may apply to both, items like flowers and jewelry probably won't sell as well with women. By creating appropriate shopping sections for each gender, you can also tailor onsite copy to speak more directly and convincingly to that demographic.
What steps are you taking to boost your e-commerce sales this Valentine's Day? Let us know in the comments below.