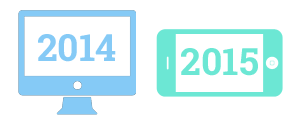 Mobile Internet usage has been steadily rising since the introduction of smartphones in 2007. 2015 will be the first year that mobile Internet usage actually surpasses traditional desktop usage. Marketers can prepare for this shift by being aware of other corresponding trends in the online landscape.
Let's take a look at some important trends predicted for 2015…
1. Email
The ubiquity of smartphones means that email is accessible everywhere, all the time. As access to email becomes increasingly flexible, less and less of it is happening via desktop. In 2015, more than 66% of people are predicted to open the majority of their email on mobile devices. To adapt to this trend, email marketing will need to be mobile friendly. This means succinct content with large fonts and prominent, easy to click call-to-action buttons.
2. Design
One phenomenon introduced by the mobile age has been a shift towards shorter visitor attention spans. Mobile users are often doing two things at once, meaning their focus on content and messaging may be divided. Web design has adapted to this by becoming simpler – dense text content and complex sitemaps have been replaced with illustrative visuals and conscise messaging that emphasizes key points across simple, intuitive site architectures. As mobile adoption continues to rise, more and more web marketing needs to adapt to these design principles.
3. E-Commerce
Mobile e-commerce is already growing at a faster rate than its desktop counterpart, now accounting for a significant 4% of total retail sales and nearly 20% of all e-commerce. Online retailers need to be prepared for this growing trend by implementing mobile-friendly e-commerce solutions and adopting the real-time and location-based technologies that are predicted to drive mobile retail in 2015 and beyond.
2015 may be one of the most groundbreaking years in online history as mobile trends solidify into online standards. Marketers who fail to stay ahead of the curve will find themselves being left behind and businesses that want to succeed online should start implementing mobile-first strategies before it's too late.
Are you prepared for the mobile age? What steps are you taking to adapt your marketing strategy for mobile? Let us know in the comments below.