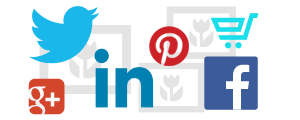 The Internet is an increasingly visual medium. With the rise of such services as Facebook, Tumbler, Instagram, Pinterest, YouTube, and Vine, images have become as important as words when it comes to online interaction. The popularity of image-chat services like Snapchat is evidence of this shift, with conversations often consisting of image exchanges rather than text. HTML5 video, gifs, memes, and infographics are now ubiquitous aspects of our online lives. It's important that online marketers and digital strategists recognize the increasing importance of images and their impact on online engagement.
Let's examine how images can impact user engagement with online businesses and digital communications:
Images in Articles
The most engaging online articles contain relevant images. In fact, those that do have images obtain 94% more views on average. Not all types of articles benefit equally however. Images in news, political and sports content have the greatest impact on engagement and performance. The key to maximizing their effectiveness is in choosing relevant images, with search-optimized captions and metadata.
Images in E-Commerce
High-quality product images are absolutely crucial to the success of an online store. 67% of consumers say that the quality of a product image is "Very Important" when selecting and purchasing a product. What's more, 63% of those say that the product image is more important than the product-specific information! The majority even say that images are more important that product descriptions or reviews.
Images in Social Engagement
Social media isn't immune to the image effect. If anything, social media users are some of the most susceptible when it comes to visual content. The engagement rate for Facebook timeline posts with video (31%) or images (37%) is significantly higher than text (27%) or link-only (15%) posts. It seems that the key to driving social engagement is selecting the most impactful, high-quality images possible, which in turn compels users to share.
So there you have it. Images have impact! If you haven't already, start incorporating images into your content, online store, or social media campaign and watch the engagement soar! Already using images in your online content? Is it having an impact? Let us know in the comments below!