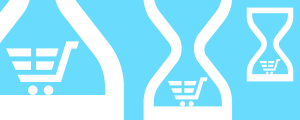 Shopping online has become so commonplace that it's hard to imagine a time when you couldn't order everything you wanted from the comfort of your living room. But e-commerce is still a relatively new phenomenon and there have been many incremental technological developments that led to the secure, standardized, convenient online purchasing experience we enjoy today.
Take a walk with us down the e-commerce timeline:
1979 – The Invention of Online Shopping
In 1979, English inventor Michael Aldrich invents a technique that makes online transaction processing possible between businesses and consumers (B2C) and other businesses (B2B).
1984 – Standardized EDI
1984 sees the standardization of Electronic Data Interchange (EDI) through ASC (Accredited Standards Committee) and X12, guaranteeing that businesses can complete online transactions reliably.
1987 – First Online Merchant Account
1987 was the year that company SWREG launched the first electronic merchant account, created for developers to sell software solutions online.
1992 – Compuserve Goes B2C
In 1992, computer products retailer Compuserve begins offering products for sale online. This represents the first time individuals have the opportunity to purchase retail products from the comfort of their home computer.
1995 – Enter Amazon
Two of the biggest names in e-commerce today first appeared in 1995. The launch of Ebay and Amazon.com represent a turning point in the mainstream adoption of e-commerce.
1996 – E-Commerce Comes to Canada
HTC made its own contribution to e-commerce history by launching the first Canadian e-commerce application for Reader's Digest.
2000 – E-Commerce is Big Business
In 2000, retail spending on the Internet reaches $20 billion, according to Business.com.
2012 – E-Commerce is Here to Stay
With tremendous growth in Internet usage over the previous decade, 2012 is the year that e-commerce sales surpassed $200 billion. New e-commerce trends such as mobile commerce, social commerce, group buying and private sample sale sites confirm that online shopping is no longer a trend but an established alternative to traditional retail shopping.
2017 – E-Commerce Takes Flight
E-commerce history is still being made and the next big thing is always right around the corner. Continuing his role as an industry pioneer, Amazon founder Jeff Bezos has announced plans to begin delivering online orders via aerial drones as soon as 2017.
Where does e-commerce go from here? What's the next big milestone for online shopping? What trends do you see developing in the online retail space? Let us know in the comments below.