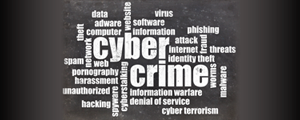 While the fear of a cracked iPhone screen or a coffee-on-keyboard spill (the horror!) may be what's keeping you up at night, there is a very real threat to yourself and your devices that many tech users aren't even considering. Sly and oh so silent, cyber attacks are on the rise. What's more, you don't have to be a tech geek or CEO of a Fortune 500 company to be a target.
Keep reading – this article may just save your data and devices before it's too late.
Denial Isn't Just a River in Egypt
Not me, you say? Why would anyone want to spy on my boring company documents or photos of the office picnic? What if we told you that 1 in 3 computers has been victim to viruses, spyware or phishing. Or that last year alone, 10 million Americans had data stolen and 12 million were victims of identity theft. Or that 20,000 malicious apps are available on android mobile devices. That's 20,000 different ways to break into your computer. Did we get your attention now?
You Are a Target
If you've always believed your company isn't vulnerable to an outside security threat, you're not alone. 88% of companies believe the very same thing. But the reality is that if you're opening emails, running a Facebook page, or even just accessing the Internet, you are a target. How dangerous can an email be you ask? 1 in 20 emails are infected with malware. Of those, 91% use a technique called spear-phishing, where a trust-worthy looking email actually attempts to steal information such as usernames, passwords, credit card information, and even money.
Cybercrime has Real Costs
Aside from accessing personal and private information, cyber attacks can be extremely costly. Globally, we're talking 7.8 billion dollars in two years for computer repairs and replacements due to malware attacks and a whopping $8.9 billion, yes billion, annual cost of cyber crime. Just recently, Target was the victim of a cyber attack where a phishing email campaign caused millions of U.S. citizens to have their financial data and personal information stolen. Another notable case is Neiman Marcus, who suffered a security breach resulting in the theft of 1.1 million customers' credit card information.
The reality is, whether you are aware or not, cyber attacks and malware pose a very real threat to your company data and devices. What's worse, when you have discovered the breach, it's already too late, as Target is learning the hard way. Learn how to protect your company against cyber attacks before its too late.