Website Provides Limited-Time Discounts on High-End Home Decor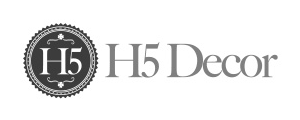 Founded by Robert Courey, the prodigy of the legendary linen and textile manufacturing Courey family (of George Courey Inc.), H5 Decor is an e-commerce, home decor destination that sells products for the five most celebrated spaces of the home: Bedroom, Bathroom, Kitchen, Living Room, and Outdoors/Garage. Offering fresh, exuberant designs to contemporary audiences throughout North America, the website features bold, creative, invigorating photos that give clients a gateway into the theme-based sales taking place across the site. Members of H5 are given exclusive access to fantastic discounts on premium products, as long as they act fast. Each week, new products become available, but only for a limited time.
HTC developed H5Decor.com from conception to delivery, working with Robert to define the look, functionality, technology and business logic for an outstanding e-commerce experience. Built on the Magento e-commerce platform, the website allows H5's team to deftly manage a vast, constantly changing product catalog with items shipping from various international locations.
H5 customers enjoy an inspiring, fluid, uninterrupted shopping experience. Products can be added and reserved in the cart as customers browse the site, allowing them to visualize rooms and purchase products that fulfill a complete decorative vision before checking out. In addition to great prices, H5's members can receive discounts by sharing sales and products via social media.
Serving both American and Canadian markets, supported by industry leading marketing techniques and flexible, scalable technology, the site is poised for tremendous growth. With their new website, H5 is sure to become a household name in household decor.