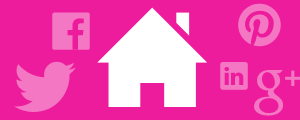 Realtors are natural marketers. They know how to connect with the local community, foster client relationships, and build trust. Social media is all about connecting with people and is therefore  ideal for the real estate industry. If you're a realtor, your Facebook page, blog, and Twitter account provide you with an unprecedented opportunity to connect with clients. Social Media is a tool to help you do what you do best, just on a much larger scale, and much more efficiently.
Read on to find out why you need to get real about your social media presence today!
1. Everybody's Doing It
Location, location, location. Everyone in the real estate industry knows this famous adage – and that's because visibility is key to attracting business. The same holds true online. If you have a website, you're doing ok, but the real foot traffic is on the social streets. Being active on social media platforms like Facebook and Twitter make it exponentially easier for potential leads to find you on the web, and this can be a game changer. Today, people are turning to the web to research products and services because they want to get a good idea of what their options are. The web allows them to do the homework required to feel comfortable with their decision. Having a strong social presence means that these searchers can get to know you; they can see your listings, read reviews and interact with you when they are ready.. Another thing to consider is that not having a social presence means that when your potential customers turn to the web, they are finding someone else. An astounding 84% of real estate professionals use social media. This means that it's no longer time to decide whether you need a Facebook page, it's time to figure out how to make yours unforgettable.
2. Apps Are Becoming an Industry Force
When you're deciding which houses to show a client, you need to consider what they're looking for. Finding the right house depends on understanding your client and what they want. The same is true for social media – they key to staying on top is to know your market and adapt to their needs. Today, more than ever, people looking for houses are looking online. Apps like Realtor.com have made it incredibly convenient and efficient for searchers to interact with agents and find what they are looking for. To date, 3.3 million people have downloaded the Realtor.com app, spending an average of 16 minutes on the app. The take home here is that the market has gone online and you need to be there with them.
3. Online Activity Drives Real World Action
When it comes to social media and business, the most frequent question is "will this help my bottom line?" Sometimes it can be hard to see how likes, views, and shares translate into real world action. How likely is it that a person searching for agents online and clicking through listings will actually convert to a homebuyer or home seller? In the real estate industry, online activity is very likely to translate to real world action. In a study on social media in the real estate industry, out of all the people who had viewed a home online, an astounding 45% walked through the home in person, and 21% drove by to view the home. Similarly, 29% located an agent as a result of an online search.
Online marketing through social media platforms allows you connect and interact with buyers and sellers in the most convenient and effective way possible. It's a modern tool that enhances the skills you already have, making it easier for you to increase you business and ultimately, your bottom line.
Have you had success using social media in real estate? We'd love to hear in the comments below!