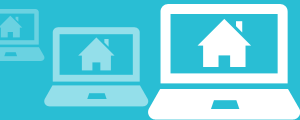 When it comes to choosing a real estate agent, there is certainly no shortage of options. From newspaper ads to billboards to the back of the yellow pages, brokers are beckoning for potential customers to pick them. So how does a real estate agent stand out from the crowd? Just like you use Trip Advisor or Yelp to help choose hotels and restaurants, online reviews are an effective way to learn about real estate agents. About three quarters of individuals trust online reviews as much as personal recommendations. Online reviews show your prospects the time and dedication you give to your clients.
Read on to find out how online reviews will help you stand out:
Positive Reviews are a Sales Magnet
It's not too hard to imagine why a person looking for an agent would be attracted to one with a lengthy list of positive reviews from past customers. Satisfied customers are the clearest indication of success. It's nice to have a fancy website, a professional bio, and a snazzy looking headshot, but none of these things give any real indication of your skills, or what it's like to work with you. In a survey of over 2,500 online home buyers, 62% expressed that the key factor that would lead them to contact an agent they found online were excellent reviews. One key factor to keep in mind is that reviews should not be by anonymous clients; otherwise it can look like these are not real customers.
Excellent Service Gets Rewarded
Online reviews are your chance to show off all the time and effort you put in on behalf of your clients. 65% of clients surveyed expressed that the main motivating factor for writing an online review is excellent service, which means that only successful agents will be lauded. Think of your review space as a showcase of your achievements, where those who don't know you can get a better idea of what they are getting when they choose you.
The Good Outweighs the Bad
Some people are afraid to include reviews on their site because one unhappy customer can taint all the positive experiences and hurt business. But the reality is that this simply isn't the case. In fact, it's the opposite. Not only do positive reviews outweigh the negative ones, only 11% of people expressed that they would be hesitant to contact the agent after reading a negative review. Another thing to consider is that negative reviews can be seen as legitimizing the positive ones – five star ratings across the board may come across as misleading.
Reviews Support Word-of-Mouth Referrals
As a real estate agent, one of the powerful advertising tools you have at your disposal are word-of-mouth referrals. When you do a good job with one client, they are likely to recommend you to their friends. Today however, word-of-mouth doesn't stop at the water cooler, or the gym. Once a potential customer is given a referral, most will continue to do their research online. Positive online reviews help to bolster what searchers are hearing from friends and colleagues.
Have you hunted for a real estate broker lately? How important were online reviews for you? Let us know in the comments below.