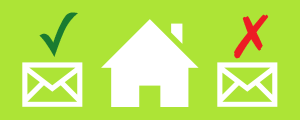 Many real estate agents today are still relying on "For Sale" signs hammered into property lawns, or mailed postcards featuring a maximum of 4 or 5 pictures. If you are counting on local signage and print advertising alone, you are missing out on one of best opportunities for real estate agents: Email Marketing campaigns. The beauty of email marketing for real estate is that you have a captive audience, the opportunity to share lots of information, endless photos, and an attractive layout with which to do so. The best part – it's free!
So how can you create the ultimate real estate email campaign?
Sender: What's in a Name
You may not realize it but the sender line in your campaign can often determine whether someone chooses to open your email at all. Messages from obscure addresses or unknown senders will often get deleted before they are even opened. In order to put forward a successful email marketing campaign, be sure to use your own name in the sender line. A consistent, recognizable name leads to trust among your recipients. If your recipients use Gmail and Yahoo mail, the sender shows up on the far left so that it is the first thing they see when they are browsing their mail.
Subject: The 3 Golden U's
The next most important component of your email campaign is your subject line. Once again, delivering a message that has been optimized will guarantee you more interest and higher opening rates. Focus on the three U's:
Is it URGENT? Be sure to use words that encourage immediacy. You want your readers to open it now, not later.
Is it UNIQUE? Don't send out a generic subject line advertising "great new properties" or "must-see deals". Be specific and attention-grabbing.
Is it USEFUL? Be to include words that motivate your readers to open your email. Offer promotions, deals and special offers.
Message: The One-Minute Rule
Consider this: Readers spend an average of 51 seconds reading an email newsletter. This means that you need to deliver all of your most important information in under a minute. You can always include links for more information but be sure that you keep your intro short and sweet or your reader may move on before they get to the good stuff. Some ideas to consider:
Make your first sentence a summary of the entire email. This way your readers know what they are about to read and whether it is interesting and useful to them.
Use bullet points and bolding. This will allow readers to scan your email easily and search for relevant information.
Forget chunky blocks of text. Stick to paragraphs that are 1 to 2 sentences long so your readers aren't overwhelmed by the amount of information.
Email marketing offers real estate agents a faster, more efficient and more attractive way to advertise properties, build relationships and create a strong personal brand. If you personalize your emails, keep them professional and pertinent. With proper planning, your eye-catching campaign is sure to help you convert your recipients into future clients!