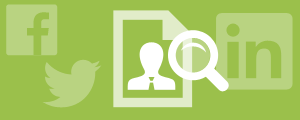 Imagine finding your next star employee through…Facebook? It's not as crazy as you may think. Facebook, and other social platforms, are quickly becoming legitimate recruiting tools with big names like Pepsi, GAP, Oracle and AIG turning to the vast user base of social networks to garner their freshest recruits. You can turn to job boards like Monster.com to find your future talent, but this can lead to piles of unqualified applicants to sift through. Platforms like Facebook and LinkedIn give you the tools to search for the perfect candidate and talk directly to them as soon as you do. The best part? It's all free!
Get the Word out Through Twitter
While Twitter doesn't give you much space to describe an available position, 140 characters is all you need to get the word out that you're hiring. Think of Twitter as a megaphone: broadcast the opening and then link to your website or LinkedIn page so interested candidates can find out more. The key to making Twitter work for you is to make your tweet stand out. Get right to the point ("Looking for a superstar sales rep…") and use relevant hashtags to make your job post searchable (#job #jobpost #hiring #sales #salesrep). Be sure to follow people in your industry and in your city to broaden your network as much as possible. Most importantly, get involved in your industry's Twitter conversations. There is no better way to get exposure than to be relevant. Your tweets can be a great source of information about your company and help attract the right talent.
Target with Facebook
With over 1 billion active users, the sheer size and reach of Facebook makes it a worthwhile channel for talent searching. Chances are high that your future superstar has a Facebook account. The question, then, is how to target the right profiles. The first step towards finding talent on Facebook is to make your company attractive. Customize your company Facebook page and be sure that it accurately reflects your brand. Creating an engaging brand experience with images, videos, and staff postings will make your company seem enticing to skilled candidates. Next, create a careers tab on your page to target active job seekers. Finally, try posting on the Facebook Marketplace. It's searchable and alerts your network via email the moment your opening is posted.
Network through LinkedIn
LinkedIn is a powerful networking tool as it contains a vast user base whose profiles contain detailed descriptions of their experience and expertise. Be sure to create a company profile that's engaging and rich in keywords so that job searchers can find you. You can also actively search for candidates by looking up keywords that will help you find the type of candidate you are looking for. LinkedIn is a networking based platform, so the key to successful recruiting is strong networking. Start building your connections and then work on fostering real relationships in your network. Creating authentic relationships can encourage your connections to refer you to your best future employee!
Social media platforms have a vast user base and various tools to help you discover the right ones. What's more, you can create a social presence for your company, post jobs, and actively search for candidates for free. You never know, your next Facebook fan could become your best hire!
What are your social media recruiting tips? Lets us know in the comments below!