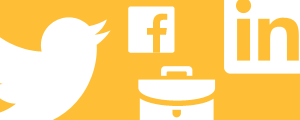 Facebook is just for keeping in touch with friends, right? Sharing photos, updates and the latest Will Farrell joke, right? Not quite. If you're job hunting, chances are that your friends aren't the only ones clicking through Facebook photos and scrolling through your tweets. The world of job searching and hiring is changing. In fact, a whopping 89% of companies use social media networks for recruiting. Even more astonishing: 1 in 3 employers reject candidates based on something they find online. So yeah, you may want to rethink that keg stand pic.
Just how important is your online social presence to your future career?
Here's a little food for thought:
79% of hiring managers and job recruiters review applicants' online info
1 in 5 employers use social networking sites to research job candidates
65% of companies have successfully hired via Social Media
LinkedIn
LinkedIn is a social network for professionals, so it should be no surprise that it is the most popular social network for recruitment. 86% of hiring managers are using the platform to check out possible candidates. Why is LinkedIn such a popular recruitment tool? LinkedIn is a networking platform with millions of potential employee profiles only a click away. While posting jobs on boards like Monster or CareerBuilder may solicit unqualified replies, LinkedIn allows companies to search out qualified applicants and get referrals from people within their networks. Put it this way: All 500 Fortune 500 companies have members on LinkedIn.
Facebook
While Facebook isn't primarily a professional network, your profile page can make or break your future career. A profile with offensive content or unprofessional conduct will be a major red flag for any hiring manager doing their due diligence. So before you send out your resumé or contact companies, be sure to clean up your Facebook page. On the bright side, Facebook can be a valuable tool in your job hunt. Updating your status with a description of your job search can go a long way with friends, old colleagues and past acquaintances who may be aware of job openings. Another tactic is to seek out the hiring managers of companies who are hiring and see if you have friends in common. A referral can go a long way and help you stand out from the crowd.
Twitter
Twitter is a popular recruitment tool because it enables hiring mangers to engage with potential employees (for free!). More and more, companies are using Twitter to publicize job openings and seek out candidates. So how can you get hired through Twitter? Become part of the conversation. Stay on top of the companies in your industry and look out for postings about job openings. Be sure to build your Twitter voice by engaging with key industry players and showing your value. You can often tell a lot more about someone from what and with whom they tweet than you can from their resumé.
With the majority of companies using social media as part of their recruitment strategy, it's time to get on top of your profiles. Be sure that your social presence puts your best foot forward. An unprofessional profile can knock you out of contention while a well-connected network and insightful input can boost you to the top of the pile!
What steps have you taken to make your social profiles employer friendly? Let us know in the comments below.