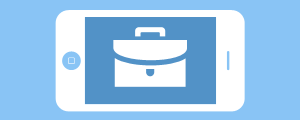 Long gone are the days of landing a job through the newspaper classified ads or cold calls. Today's job market is tough and competitive, but the good news is that your most powerful job search tool is in the palm of your hand – your smartphone. Thanks to mobile phones and tablets, job seekers can take their search on the go. By using the right applications, mobile job search can even be more efficient and more rewarding than traditional methods. In fact, 77% of job seekers are using mobile search apps, proving this is more than just a trend.
Here are some tips for effective job searching over mobile-web:
1. Choose Apps Wisely
There are a lot of job apps out there. As with all apps, some are better than others. Be sure to check out the ratings and reviews in order to choose the app that best suits your needs. An example of an app with high ratings is CareerBuilder, which allows filtering for positions that have mobile-friendly application interfaces and lets you instantly apply with a pre-uploaded resume.
2. Sign up for Alerts
We all know the saying, "the early bird gets the worm." Sign-up for services that allow you to receive job alerts via text message and email so that you can be the early bird when applying for new positions. For example, users of TweetMyJobs can receive relevant job matches via text, email or social media instantly, daily or weekly. Being aware of new positions as soon as their posted gives you a head-start.
3. Save Your Searches
Save time by saving your search criteria within the job app so that you don't have to keep re-entering the same information. With over 1.5 billion job searches per month, Indeed's app provides plenty of useful resources for making job searching more efficient. Users can save searches and also view the latest jobs posted in their chosen fields since the last search.
4. Be Social
Sharing tools such as Facebook and Twitter and LinkedIn can help you network. For example, LinkedIn's mobile app allows users to learn about companies, make useful connections, participate in relevant groups and interact with networks in their industry.
5. Be Practical
Some employer websites will be more mobile-friendly than others. Don't let a non-optimized site get you down. Send the info to your email and apply from your desktop.
6. Take Advantage of Resources
Job apps often provide resources such as blogs and other industry related information that can help you get a leg up on the competition. JobMo allows users to to access interview tips and connect with other seekers to share job-hunting advice.
Looking for a job entails some stressful hurdles. Mobile job search apps mitigate this stress by facilitating search, alerting you to new postings, and storing contacts and resumes. If you can learn to use your smartphone as a job search tool, you can make finding a job a much more manageable task.
Have you landed a job using a mobile job search app? Let us know your experiences in the comments below.