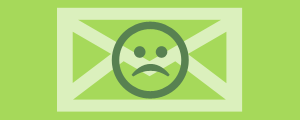 Email is the top activity on smartphones. While many companies have started to optimize their campaigns for mobile, there is still a lot of room for improvement. Marketers are falling peril to bad practices that are resulting in unsuccessful mobile email campaigns. From tiny buttons to poorly scaled images, here are the 3 common mobile email-marketing mistakes to avoid at all costs.
1. Forgetting about scale
Does your campaign include graphics with embedded text? Think about how tiny that text will look at a quarter the size. What about links and buttons? A sure way to frustrate users is by giving them buttons that are impossible to press. Usability is paramount in mobile email campaigns: 70% of users automatically delete an email if it doesn't display well on their mobile device. How do you combat this issue? Think about the scale of each and every element in your email. How much space is there around clickable items? Are buttons big enough? Is excessive zooming and pinching required to read content? Forgetting about scale is a surefire way to ruin your email campaign.
2. Hiding the call-to-action
The call-to-action is your email's main event. It is the gateway to your product, sale, or promotion. It tells your customer what they should do and what they can earn from your email. One of the biggest mistakes in email marketing is hiding the call-to-action under paragraphs of text. Your campaign may be chock full of valuable information but if your call-to-action is buried at the bottom of your email it will ultimately lead to lost conversions. 61% of users will leave a mobile site if they don't see what they are looking for immediately. The key, then, is to only include the most important information in the mobile-optimized version. Get to point of the email as soon as possible and place your calls-to-action front and center.
3. Pay no attention to when you send
An amazingly crafted and optimized email will still get buried if you send it at midnight on a Saturday. 23.6% of all emails are opened within 1 hour of sending. Failing to optimize sending times will result in losing conversions. The highest mobile engagement occurs between 10am and noon, picking up again around 4-6pm, so try timing your email blasts during these hours.
The best way to avoid mistakes when optimizing your campaign for mobile is to test it all out. Test your links, your graphics, your text size, and do it on as many interfaces as you can. If you're having trouble reading your own campaign, chances are your audience will have trouble, too.
Can you think of any other mobile email campaign mistakes? We'd love to hear your ideas and experiences in the comments below!