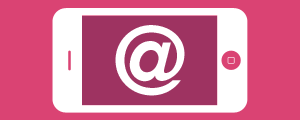 More than ever before, people are checking their emails on the go. An astounding 43% of emails are being opened on mobile devices – and this number is expected to reach over 50% by the end of 2013! Unfortunately, most companies have been slow to recognize the trend, with a mere 25% creating mobile friendly email campaigns. Whether you are crafting emails to communicate exciting company developments, promote new products or advertise an upcoming sale, without responsive design, your emails risk getting deleted.
Why is responsive email so important?
An Optimized Reading Experience on All Devices
Responsive email design uses a set of techniques and principles that apply to layout, images, and copy, making mobile emails easy to read and providing an optimal look on all devices. Given that iPhone now leads amongst ALL email clients for email opens, the importance of a mobile-friendly layout cannot be over-stated.
Highlights Calls-To-Actions
Rather than having to scroll through paragraphs of text before arriving at a call-to-action, a responsive email can get straight to the good stuff. Special offers and promotions attract the most amount of attention from users checking mobile email, so why bombard your users with information they don't need? A mobile-optimized version of your email can hide the long text, and instead, display a short message with a prominent call-to-action, allowing mobile users to easily engage with your email on the go.
No Second Chances
When it comes to emails, you have to get it right the first time. Only 3.3% of people view the same email on more than one device – this means 97% of emails are viewed on only one device. That's a pretty scary statistic if your emails aren't mobile-compatible.
As consumers become increasingly comfortable reading emails on the go, they're expectations for the quality of mobile email will rise. Communications that don't conform to these expectations will go unread by the vast majority of mobile users. Don't let your company's efforts go to waste.
What trends are you noticing in mobile email? Let us know in the comments below.