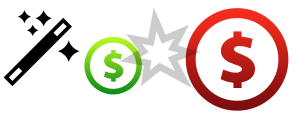 By now you know how critical a website is to your business. A quick search for "cheap web design" on Google will give you dozens of "web designers" who will have your website up and running in no time. You could even design the website yourself using WordPress or some other DIY web design service.
Sounds great, right? But your site isn't looking quite the way you imagined it would. A button isn't clicking properly and a link isn't linking. Your website is down every other day, it feels lost in cyberspace, and worst of all, your designer isn't replying to your (urgent!!!) emails.
While hiring a cheap web designer may seem like a good way to save upfront, it often costs more in the long run. That's because cheap web design has the potential for lots of hidden or unexpected costs that can ultimately compromise a budget:
1. The Cost of Low Expertise and Limited Knowledge
We all know the saying, "you get what you pay for." Web designers who charge cheap prices do so for a very simple reason: they don't have the experience or the talent to charge more. Of course, not all cheap things look cheap. If you have a good eye, it's possible to find a cute t-shirt at a thrift store or a diamond in the rough at a flea market. The difference with web design is that you really have no idea what you're getting beforehand. You have to trust someone who claims to be able to give you what you want. The reality is that the final product will most likely fall short of the claim, and you may actually get less than what you pay for. 
2. The Cost of Poor Search Engine Rank
One of the benefits of choosing a reputable web designer is that the "designer" is usually a design team. The team will include an experienced copywriter who specializes in web and SEO. Why is this important? Your website is only useful to your business if potential customers can find it. If you're a shipping company and your site is appearing on the back pages of a Google search, you're missing out on valuable business. If you can't be found via search engine, no matter how little money you've paid for your website, it's money wasted. With an experienced copywriter and design team, not only will your website have exciting content, it will be properly optimized so that you rank well and get the clicks you deserve.
3. The Cost of Cheap Web Hosting
Most businesses looking to build a website think about the cool graphics and features – but often don't think about hosting. Going with a cheap web designer means that you'll be getting cheap hosting as well. Opting for cheap hosting is like building a house on a cracked foundation with bad plumbing and poor wiring. Even the most amazingly built house is sure to encounter problems with this faulty base. Cheap hosting can lead to a number of problems including downtime for your website and slow page load time. Both these issues will frustrate users, hurt your SEO and ultimately hurt your business. If you want your website to be a strength for your business, you have to start strong.
4. The Cost of Looking Cheap
If it looks like a duck and quacks like a duck, it's probably a duck. Your website represents your business to the entire online world. If your site is built on a cheap budget, it will look cheap, and customers will notice. If you cut corners on your website, potential customers will assume this is how you conduct business. When you opt for a cheap site, you risk losing visitors who don't want to work with a "cheap" company. When you invest in a quality website, you bring that same quality to your business, and the investment is sure to pay off.
5. The Cost of a Redesign
The ultimate hidden cost when opting for a cheap web designer, is the potential cost of a full-redesign. If you have a cheap looking page, or even an attractive page that's getting lost on the web and frustrating your viewers with poor usability and downtime, your website is not acting as the business tool your company needs. Of course, the decision to redesign means more money for a reputable designer and more time wasted – both considerable costs for your business.
Choosing the right web design company can be a confusing task. Quotes from reputable companies can be high and it can be difficult to see the value. It's important to remember that a good website is not just about nice colours and cool pictures. A website that benefits your company needs to be functional and intuitive. It needs to be optimized so your business can be found. And most of all it needs to be designed to convert customers. If you choose a cheap web designer, you're missing out on the opportunity to make your website your company's most valuable sales tool – and that is a cost no business should pay.
Have you had a negative experience after relying on a cheap design? Share your experience in the comments below!