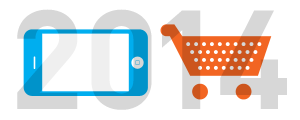 According to BI Intelligence, 29% of mobile users have made a purchase with their phones. By the end of this year, mobile commerce sales will have grown 67%, reaching $25.4 billion. Many businesses like eBay and Amazon have already seen incredible results from their investment in mobile commerce this year, and many more are looking to beef up their mobile presence in order to follow suit. With mobile quickly becoming the fastest growing platform out there, all eyes will be on mobile trends for 2014.
So what should we expect?
1. Polished Mobile Design
For a business to see success in mobile commerce in 2014, their websites need to be optimized for mobile. Just as with regular sites, complicated functionality or unclear layouts frustrates users and causes them to leave. As the m-commerce industry is exploding and user-friendly mobile design is becoming more common, mobile users are learning to expect it. This means no tolerance for illegible text, heavy sites that take forever to download, and tiny buttons that are impossible to press. If businesses don't optimize their websites for mobile, they will start to fall behind in 2014.
2. Personalized User Experience
With mobile commerce, businesses can count on the fact that only one user is accessing their website from any given mobile device. The fact that a mobile phone is a personal device means that the user's web experience can be as well. In the same way that Netflix recommends films to watch based on your past purchases, websites can target users with relevant information in order to provide the best possible customer experience.
3. Prominent Social Commerce
Reviews matter. Online shoppers trust peer recommendations and reviews more than any other source. (SOURCE). Social commerce enables shoppers to read how like-minded buyers feel about any product, and this gives them confidence in their purchasing decisions. "Conversion is 29% higher when customers look at a product review, and average order value increases by 13%," said Joey Rahimi, co-founder and CIO of Branding Brand, Pittsburgh, PA. Many mobile sites like Target and Amazon already provide access to product reviews on their mobile sites. As social media continues to widen its umbrella, it will quickly become a necessary feature for successful mobile commerce websites.
As mobile comes increasingly closer to the forefront of the web, businesses need to start emphasizing their mobile development and marketing efforts. Mobile sites need to be designed with speed and good looks. They need to provide proactive services that enhance the customer experience, and they need to provide social information that gives users confidence in their purchasing decisions. These mobile pillars of 2014 will be sure to bolster your business's mobile commerce success.