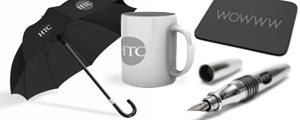 Look in your desk drawer, or your locker, or your bag. Chances are, you've got some promotional products in there. While you may even use many of the promotional items you've accumulated along your career, are they effective? Are you more likely to choose the brand plastered on the mouse pad or holding your morning coffee?
Many studies on this question have been conducted, and the answer is a resounding yes. In one study, 76% of participants who received promotional products in the last 12 months recalled the name of the advertiser, 52% reported experiencing a more favorable impression of the advertiser after receiving the item, and an astounding 76% still had the product. In summary, promotional products work.
While using promotional products seems like a no-brainer, the reality is that it can be a double-edged sword. Promotional items can stick around for a while and as a result, may be a potential customer's first interaction with your brand. As such, this item is essentially speaking for your business. Just like your business cards, promotional products say a lot about your company culture, values and regard towards your clients.
So how do you get the most out of your promotional items?
1. Choose a product your clients can actually use
Getting your promotional product right is all about knowing your audience and their habits. The key is to give your client a product they will actually use. Everyone uses pens, but people are also more likely to lose pens or give them away. Try and put a little more thought into it. Are your clients eco-conscious? Reusable shopping bags or totes will come in handy. Are they into health and wellbeing? Try a water bottle or a gym bag. Sending your clients something that appeals to them will go a lot further than a one-size-fits-all solution.
2. Don't skimp on quality
When it comes to promotional products, there is a fine balance between quality and quantity. Although you want to maximize brand awareness, you don't want to give your company a bad image. Let's face it; no one wants a cheap product. Not even a cheap pen. Promotional products can actually have a negative effect if it looks like no care was put into making them. The point of a promotional product is to make your customer feel appreciated or build brand awareness for prospective customers. If your product is made poorly, your customer is not going to feel very valued. Similarly, potential customers are going to get the impression that your company cares about its customers. On the other hand, delivering a high quality notebook or phone cover will put your company's best foot forward.
3. Give your product killer personality
Any company can put a logo on a hat, a t-shirt or a mug. This is your time to stand out. It only takes a little more time and effort to gain a real advantage. Think about an item that represents your brand or your product. Remember, your product is speaking for your company, so think about what you want to say and don't be afraid to get creative!
4. Think of residual value
A promotional product has the power to expose your brand beyond its initial recipient. A mug on a desk, a t-shirt at a gym, or a cap on a golf course not only advertises the recipients' affiliation with your company, it will be seen by everyone surrounding them, further promoting brand awareness. Think of this as a Share or a Like on your social channels. This bonus circulation translates to more advertising revenue.
Promotional products are definitely worth your investment, if you take the time to get it right. Think about your target audience, send them something that shows you care, and something they'll remember.
Here are some examples of products that get it right.
Have you received a promotional product that swayed you? Let us know!