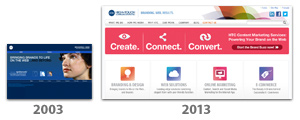 Are you or your boss putting off a website redesign because it's too costly? Neglecting the website may be costing the company more than an update: stale content is increasing your bounce rate, old technology is frustrating visitors (potential leads), and poor search engine ranking means your losing business to your competition.
Your website is the face of your company. An effective website is a powerful tool that can benefit your business in countless ways. It can bring in customers, recruit new talent, show off your products and services, increase brand exposure – the list goes on. The look and feel of your website is going to be your company's first impression to prospective customers and employees.
Unsure about your website? This test will tell you if you can hold out a little longer, or if it's time for a redesign. Be sure to note your answers!
The Website Redesign Test
Is your website is over 5 years old?
Are you ranking poorly on search engines?
Does your website take more than 4 seconds to load?
Are you're losing visitors after your Homepage?
Can you view and navigate through your website on tablets or mobile?
Is your website getting increasingly less traffic?
Does your website have outdated information?
Is your website more than 3 clicks deep?
Does your website misrepresent your brand identity or corporate culture?
Is your website noticeably text-heavy?
Does your website use auto-play music, splash pages, Flash, pop-ups, or patterned backgrounds?
Is your website displaying poorly on certain web browsers?
Are you unable to update your website easily and on your own?
If you answered "Yes" to any of these questions, you may want to consider a redesign. Let your website put your company's best foot forward. Remember, you only get to make a first impression once. Why not make it a good one?