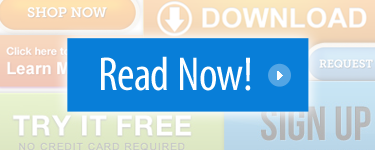 With the pivotal role of converting traffic into customers, the CTA (call-to-action) is arguably the most important feature on a web page. Though it carries so much importance, this critical web component is all too often neglected. Your webpage design might be fabulously flawless and your content may be polished to perfection, but it's the CTA that ultimately brings in the leads and sales. Everything else on your web page is prepping for the CTA – but once its time for the call, it's essential that your CTA is ready to be a shining star.
So how do you create a CTA that will captivate your audience and have them clicking?
Writing Your CTA
Goal-Oriented: Figure out what the goal of the page is. Do you want people to explore your portfolio, fill in an application or download an app? Be sure your call-to-action is specific to your goal.
Clear and Concise (Edit!): Keeping your text simple and crystal-clear makes it easy for your visitors to know what to do. This is perhaps the most challenging element in creating a strong CTA. You need to keep it short but still be convincing. The key is to keep editing!
Strong Action Verbs: Remember these from high school? Using powerful verbs with a sense of urgency will lead your visitors to act. The active voice will always be stronger than the passive voice. Which do you want to click more:  "Click to see how we can get you started." or "Get Started Now!"
Keyword Rich: CTAs appear on your homepage. This is a great opportunity to boost the SEO of your website. Using keywords will also help keep you goal-oriented. If you're a web design company, a great CTA could be: "Start Your New Webpage Now!"
Designing Your CTA
Make it Pop: Designing your CTA to look like a 3-D button is an example of how your design can help create clicks. Buttons naturally entice people to click them, so they will generate more clicks than a standard link (who can resist clicking a button!?). Be sure to use a big, clear button with clean text that stands out.
Contrasting Colors: An effective way to make your CTA stand out is to contrast its colour against the website's backdrop. The CTA has to catch the visitors' attention and entice them to click. Contrasting patterns, shadows and borders can also help your button stand apart and gain clicks.
Mobile Optimized: With mobile becoming the fastest growing market for web surfing, it is a good idea to have your call-to-action buttons mobile optimized. Be sure they appear large enough so that they are easy to see and click. As well, avoid using buttons in Flash – these won't appear on mobile devices.
Strong CTAs are the difference between a website that looks good and one that generates leads and sales. If you give your CTAs the attention they deserve, they will be sure to attract clicks. For some inspiration on crafting click-worthy calls-to-action, check out these real-life examples!
Let us know if these tips and tricks helped your CTR (Click-Through Rate) or if you have any other tips for crafting kick-ass CTAs! Comment below!