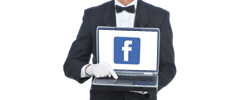 When Mark Zuckerburg founded Facebook in 2004, the website's membership was limited to Harvard students. As Facebook's popularity grew amongst youths, membership was expanded to include other colleges and universities, and eventually high schools too. Because of its roots in academic and youth culture, Facebook has always been seen as the domain of the young. But today, with more than 1 Billion users, Facebook is no longer just for kids.
Two-thirds of online adults say they are Facebook users and the average Facebook user is now 38 years old. This is good news for marketers and advertisers hoping to connect with an audience that has real purchasing power and disposable income. It's also good news for adults seeking mature and meaningful engagement with other adults over social media. With Facebook's adult demographic in mind, we've prepared some useful tips that will help you use the service like a grown up:
Keep it Positive!
Younger Facebook users tend to express more negative emotions and use more swear words in their posts. Adults should avoid these bad habits and aim to keep things positive. Self-indulgent or whiney posts don't provide any value for your friends or followers. In fact, the opposite is true; negative posts can bring others down and reflect poorly on you. After all, nobody likes a gloomy Gus. Share things that make you happy and that provide encouragement or value for others.
Plan your Posts!
Impulsivity on Facebook is the mark of a young and inexperienced user. Teens make almost 3x as many wall posts as users aged 40-50. This type of spamming diminishes the value and appeal of each individual post you make and will discourage your friends and followers from taking what you share seriously. Plan your posts, think about what you want to say and who you want to say it to. Take a moment to write a thoughtful description of your content and tag a few people who might find it especially relevant.
Curate your Contacts!
Facebook is not a popularity contest, though most youths treat it that way. On average, teens have nearly twice as many friends as adult users aged 40-50. Having lots of friends may seem like a good thing at first, until you look at your Facebook feed and are struck by how irrelevant the content is. The fact is that if you don't know a Facebook friend very well in real-life, you probably won't care too much about their posts and updates. Instead of focusing on how many friends and followers you can amass, do the adult thing, and try to cultivate a list of relevant, intelligent contacts who add value to your feed by linking to useful content and engaging with your own.
Following these guidelines will vastly improve your Facebook experience by mitigating the number of toxic, distracting, and time-sucking interactions that can take place on the site. Time you spend on Facebook should provide some meaningful value to your real-life, otherwise it's just a digital wasteland where your productivity goes to die. Use Facebook like a grown up, and help make it a better place for the rest of us.
What differences do you notice between the way adults and youths use Facebook? Let us know in the comments below…