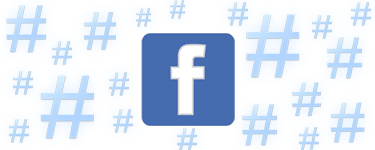 The web is buzzing with Facebook's launch of the coveted hashtag, a feature that has experienced significant success on other social platforms such as Twitter and Instagram. For those that don't know how hashtagging works, hashtags are a self-indexing tool: placing the # symbol in front of a term in your tweet or photo makes the post searchable by that term.
Facebook has already become an indispensible business tool. As this valuable platform makes this pivotal leap into the hashtag world, we're looking at what this will mean for business.
Increase Brand Exposure
Until now, every post your company made on Facebook was limited to your fans unless a) You paid to promote it or b) A fan shared it on their own wall. With the introduction of hashtags, your post has the potential to be discovered by every single Facebook user. "During primetime television alone, there are between 88 and 100 million Americans engaged on Facebook — roughly a Super Bowl-sized audience every single night," Facebook product manager Greg Lindley wrote in the post on Wednesday. That's a sizable readership potential. Say you post a photo announcing your new content marketing service and use the appropriate hashtag (#contentmarketingservices). Any Facebook user searching for that service would see your post in their search results – even if they have yet to hear of your company!
Discover Your Target Market
It's not just about Facebook users discovering your company through hashtags. It's also about using hashtags to discover users that are part of your target market. If you're a Montreal wedding planner, your target market is largely in Montreal, specifically, people who have just gotten engaged. Search for the hashtag #Montreal and #engaged and voila!, you've discovered a list of users who may need your services. Similarly, if you want to see what others in your industry are up to, search the hashtag #weddingplanner and discover other companies that offer this service.
Become A Part of Trending Conversations
Trending hashtags (such as those on Twitter and Instagram) let you know what the world is talking about in real time. This is an opportunity to get involved in hot spots of activity and trending conversations. Until now, Facebook lacked a "simple way to see the larger view of what's happening or what people are talking about," Facebook said in a blog post. Searchable hashtags also let you follow threads on events of interest. Say your company is hosting or attending a conference and you want to follow comments related to the event. Searching the conference hashtag will give you all Facebook comments with that same hashtag. Having this tool on the Facebook platform is arguably even more powerful than on Twitter and Instagram, as Facebook allows an array of media from text to photo to video.
Customize Your Hashtag Searches
Facebook's diverse media is not the only hashtag advantage on this social platform. Facebook will give you the ability to search for hashtagged comments within your friends network only. Say you want to know how your friends and fans are responding to a conference your company is hosting. Simply select the option to only see comments from within your network. Facebook's hashtag tool will allow you to filter out information you may not be interested in, making the information more tailored to your company's needs.
Increase Advertising Reach
Adding hashtags to advertisements will be an incredible advantage to marketers who could turn ads (both image and video) into real-time conversations. Say Burger King comes out with a new hilarious video commercial and includes the hashtag #BKvideo. Anyone who comments on the video and uses that hashtag will become part of that video's hashtag thread, whether or not they comment directly on the video post. Facebook users can follow the conversation, talk to each other, see what friends in their network are saying about it, search for the video right from Facebook, and all the while, Burger King can take stock of everything that is being said – by fans and non-fans alike.
Another marketing advantage is the ability to have ads appear in searches. A shoe company who tags an ad for a pair of boot as #footwear #sale #boho #coachella would appear in a search for any of those terms. So a Facebook user attending Coachella Music Festival and wanting to follow related posts would find a perfect pair of boots to wear (and on sale!).
As we have seen on Twitter and Instagram, hashtags have been incredibly successful in bringing users from all over the world together based on similar topics of interest. By introducing hashtags to its platform, Facebook has further opened the conversation substantially. Businesses can now tailor their presence, get discovered more easily and manage their brand effectively. Facebook has announced that this is just the beginning. We're looking forward to what's coming next!
How will your business take advantage of the Facebook hashtag? Let us know in the comments section below!