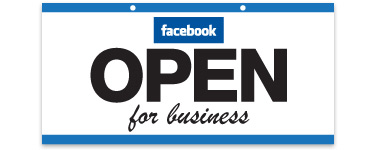 What started as a social network for the Ivys and progressed into a global social platform has now crossed over into the world of business. Facebook is not just about posting pictures of vacations, sharing your latest meal, or spreading viral videos. As a business tool, Facebook can add tremendous value to your organization – and its benefits are continuously progressing.
As it stands today, Facebook has over 1.11 billion monthly active users. To put that into perspective: The Super Bowl is the most viewed television event with 108 million people. 29.3 million people tuned in for the finale of American Idol in 2011. 16.4 million people watched the final episode of The Oprah Winfrey Show.
Aside from the sheer vastness of the audience sitting on Facebook at any given moment, Facebook presents an array of benefits that your business can take advantage of. From enhanced customer service to maximized SEO, Facebook holds a toolbox full of tips and tricks that will help your business reach new heights.
Increase SEO
Being active on Facebook can actually impact the SEO of your website. Google takes into account your organization's social presence when ranking your site. Specifically, Google looks for links, likes and chatter about your company coming from social channels. If people are linking to your website, talking about your products or your company, and liking the content your putting out, it's more likely that your company is valuable, legitimate and relevant. Accordingly, Google values these social actions when ranking you. Aside from increasing the ranking of your company's actual website, having a Facebook page creates an additional link in Google search results. This means another chance for searchers to find your company instead of your competition.
Establish a Direct Line of Communication
Think of your Facebook page as a magazine that your company publishes. Only your page is better than a magazine because it's completely up-to-date, perfectly targeted, and absolutely free. Last minute sale? New product? Breaking news? Your company can post whatever information is the most recent and relevant, and it can post this information whenever it wants. The speed and immediacy of Facebook is a tool that is unmatched by any other form of advertising. Your audience has a direct line to the newest company information, complete with a link that allows them to act on it.
Enhance Audience Engagement
Facebook let's you create an online community created around your business. You have the ability to share photos, videos and quotes that you think your audience will care about, and they are able to talk right back to you, share your posts, give you feedback, and ask questions. The dialogue that happens on Facebook breaks down the red tape that separates customers from companies. This can be extremely valuable for customer support, allowing customers to tackle problems, ask questions, and learn more about your company's products and services.
Boost Brand Awareness
Each time a fan sees a post by your company, it functions as a mini advertisement, reinforcing your brand image and reminding your fans that you're out there. Think of Rogers sponsoring a tennis tournament or Budweiser sponsoring the Super Bowl. The logos aren't sending any particular message; it is simply reinforcing our perception of the brand. What's more, each time you acquire a fan, Facebook posts this as a news story, meaning that the friends of your new fan can see this affiliation. Not only is your brand being reinforced, it's being recommended by peers, which is significantly more effective.
Maximize Brand Buzz
The viral nature of Facebook means that your company posts each have the potential for exponential reach. Say you have a special promotion and a fan shares it on her friend's wall. Friends of friends will see the post and like and share within their own network. The buzz potential is limitless. Such was the case with K-Marts viral "I Ship my Pants" commercial and M&M's "Sexy and I Know It" Super Bowl ad, each with millions of views.
Tell Your Company's Story
Facebook's Milestones let you post your company's important historical highlights and key moments in the development of your business. Milestones appear in your Facebook timeline and provide a framework for your posts that tell the story of your Page. Use this space to show your viewers where you came from and how you've grown.
Fine-tune Your Audience Targeting
While many forms of advertising use targeting in order to have their message seen by the right audience, no form of advertising does this better than Facebook. While traditional advertising uses viewer information to estimate the best times to place ads, there is no way of ensuring that only those relevant to your company are seeing these ads. However, this is not the case with Facebook. Facebook's targeting options give you the ability to specify exactly who you want to see your ads, by gender, age, city, and even occupation and education level. Your ads are fed only to those who fit the criteria you set out. While ads do cost money, it is a fraction of the cost of traditional advertising. In a nutshell, you're getting way more bang for your buck.
Show a Personal Side
Corporate websites can be professional, sleek, even beautiful entities. They tell your audience about your services, they present your portfolio, and they may even offer a glimpse of your corporate culture. But these things don't make up the entire identity of your company, they are not the details that make people care about you, connect with you, trust you, and eventually want to work with you or for you. Facebook is a platform for all the personal moments in your company that make you who you are. Employee of the month, coworkers' birthday cupcakes, company BBQs, your new mascot, or bobble head, or that parking lot prank; these are the funny, quirky, cute, and intimate details that make your company unique. The face of your company can become a human one, and this identity fosters brand loyalty and trust.
Facebook's platform presents a vast and powerful arsenal of tools that can benefit your company. From engaging with your audience, to targeting advertisements, to promoting sales, to simply building brand awareness, the options are extensive and only continue to grow. If you don't think Facebook has something to offer your business, you're missing out on one of the most powerful business platforms on the web. Your audience is out there and they're waiting to talk to you. It's just a matter of taking the time to get in touch with them.
How has your business benefitted from Facebook? Let us know!