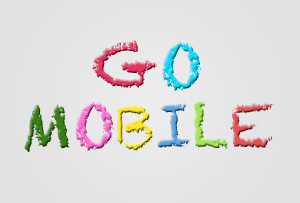 M-Commerce, short for mobile commerce, is the new focal initiative for many businesses around the globe. Many of us have already become accustomed to browsing sites optimized for mobile and even making purchases through our phones.
The push towards mobile is no surprise: companies who have mastered this domain are seeing significant results. As an example, after only 12 months of going mobile, Starbucks customers completed more than 26 million mobile transactions. Another is eBay, who is on pace to closing over $5 billion in mobile transactions. What's more, sales for smartphones and tablets are projected to surpass laptop computers by 2016.
So why is M-Commerce so attractive?
It delivers a Personalized Experience
E-Commerce sites are usually accessed from desktop computers which may be shared by many users. Conversely, M-Commerce sites are usually accessed from personal phones and tablets, which often have a single user. (You are typically the only person who browses with your cell phone.) What this means is that M-Commerce sites can get to know each user on a personal level and sugggest products and services based on unique interests and habits.
It's Geo-Targeted
For most of us, if our cellphone or tablet isn't in our hands, it's in a nearby pocket or bag and stays with us the entire day. By knowing our location, E-Commerce sites can further personalize a user's experience by promoting location-specific offers and information. As an example, say you're shopping for a birthday present at your local mall, which houses a Target. A quick tap onto Target's mobile site and all the promotions available in that particular store location will be available to you.
It's Always Accessible
M-Commerce sites are accessed through smartphones. As most of us are glued to our phones 24 hours a day, M-Commerce sites have the advantage of being accessible anywhere, anytime. As well, M-Commerce sites function through your mobile network. No need for wires or even wireless. As well, our smartphone's access to email means that we are regularly reading advertisements from the websites we subscribe to, featuring new products and promotions that link directly to the corresponding M-Commerce site. We can learn new company information and immediately act on it, from wherever we are, with the simple tap of our finger. It's as though we are standing in a company's store 24 hours a day, 7 days a week – with no travel time, no out of stock items, and no check-out lines.
It Offers Convenience and Simplicity
E-Commerce apps are quickly surpassing gaming apps to become the fastest growing app category, according to Nielsen. Some of the fastest growing commerce apps include Asda (supermarket shopping), Google Books, and the Amazon AppStore. Other popular retailers with apps include IKEA, Target, Home Depot and Best Buy.
In many cases, specialized retail apps not only enhance a user's online experience, they enhance in-store shopping as well.  For example, Target's app enables users to make a list of items they're interested in, and then see each item's availability and even its aisle location. Best Buy and Home Depot offer the ability to scan a product's QR or UPC code to get product information and user reviews. Other useful features include weekly coupons, store locators, catalogs, and many more.
As the M-Commerce trend continues to grow, it is becoming increasingly important for retailers to provide this service to their customers to add value. With so many people now brandishing smartphones and becoming accustomed to enjoying this service, company's without mobile friendly are likely to lose out to their competitors.
Do you shop from your smartphone? If so let us know which sites you use!