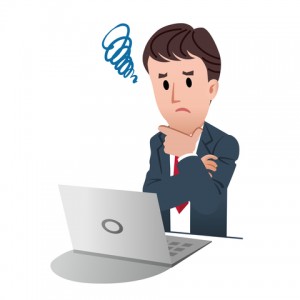 We all know that web users are incredibly impatient. And rightfully so. They're used to finding what they're looking for quickly and efficiently with as little thinking as possible. This means that when a searcher finds his way onto your company homepage, you have about a millisecond to convince him that he is in the right place.
The homepage is the elevator pitch of your site. If it is attractive and intuitive, it indicates that the rest of the site will follow suit. Conversely, if the user is bombarded with information or can't figure out how to get around your site, you'll be sure to lose him faster than you can say "click".
1) Information Overload
The homepage does not have an easy job. It is like the manager of your website, with various tasks to accomplish and numerous people to please. The homepage has to entice the viewer, promote deals and events, clarify the site hierarchy, allow the viewer to search, provide a registration area, link to important sections within the site – and that's just the beginning.
The problem is when the homepage tries to take on too much. Think of a menu that offers pages upon pages of options, and even different cuisines. If we see Escargot in Garlic Sauce followed by General Tao's chicken, very few of us will sit there thinking "Wow, what a talented chef!" Instead, if we actually manage to make it through the entire menu, we are more likely to be severely confused as to what the restaurant's specialty is. Similarly, when a company tries to put everything on the homepage, the result isn't more selection, or better options. Rather, what you get is a severely confused browser who may just lose his appetite for your site.
2) Don't get Fancy on Me
With all the possibilities in webpage design, it's easy to get carried away with making yours stand out. There is definitely room for originality on the homepage, but getting too fancy can often result in a frustrated viewer. As Steve Krug says in Don't Make Me Think, "conventions are your friends".  When users get to a site, they expect to see things look a certain way. While there's nothing wrong with a surprise here and there, you'll only run into problems if you try and reinvent the wheel.
For example, most online shoppers know that clicking a shopping cart icon will bring them to the checkout. Giving them a rainbow icon instead is not creative, it's simply confusing. Remember that conventions have innate value. If you're going to break away, the replacement had better be exceptionally clear or add enough sparkle to justify making your viewer use extra brain power.
3) Missing the Meat and Potatoes
With all the information that's getting heaped onto the homepage, it can come as a surprise that most companies forget to include key elements. The most notable omission is the company phone number. With all the time and effort spent creating a glorious looking homepage, you're cutting off a lot of potential customers by not providing a direct line to your product or service!
A second critical omission is a clear call-to-action. All too often, we find a homepage that seems to have what we are looking for, but then can't figure out how to get to the right page. Call-to-actions are the simplest way to direct the viewer to the appropriate content. If the goal of the site is to get people shopping, the smartest thing to do is to include a prominent button on the homepage that says "Start shopping now!".
Lastly, many homepages have stunning visuals and clear navigation. However, no one will have the pleasure of using the site because it is too difficult to find. Including keywords on the homepage is critical for the page to picked up in Google search results. If you're site is about photography services, be sure to include the words 'Photographer' and 'Services' on the homepage in order to optimize for search engines.
Remember the three C's: Clear, Concise, and Conventional. If you stick to these simple tips, you'll be sure to keep your viewers calm and clicking on.